Track Shack's Kids' Runs are fun, exciting and get kids interested in physical activity! Registration is on race day and nearly all kids' races are FREE!
Distances - Range from 100 meters to one mile
Ages - Kids are divided into age appropriate groups and distances
Awards - Finishers ribbons are waiting for each child at the finishline

View participant policies on youth running >>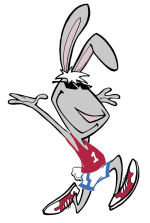 The Story Behind Miles the Bunny and Friends
Click on the links throughout the story and print out the coloring pages! Have Fun!
Miles lives in a meadow not far from here behind Mr. Bannister's barn. He has lots of friends that live nearby. There is his best friend, Manny who lives down by the pines. His girlfriend, Flo and her best friends Jo and even Evan a frog that lives by the creek in the woods.
Learn more about Miles and his friends
»
---

Kids' Event Calendar
Registration available race day only at the race site (except for the Nemours Kids Run at Run Nona and Smile Mile; you must pre-register)