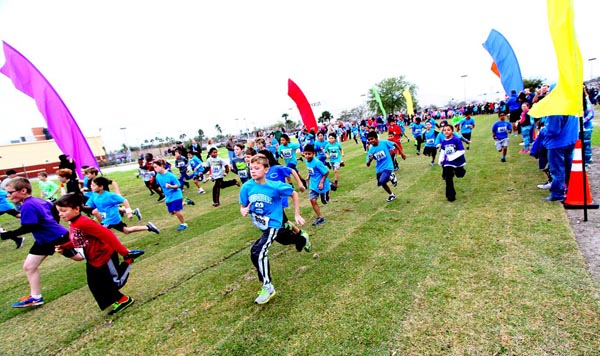 Date, Time & Location
Saturday, March 2, 2019
Please see start times below
Location: Upper Blue Jacket Park
2501 General Rees Ave
Orlando, FL 32814
The start is located at the intersection of Robin Rd. and Upper Park Rd. 

About Smile Mile
Join Miles the Bunny and his friends for a morning of fun and fitness. This event consists of a one-mile children's race open to children between the ages of five and eleven.
Learn more about Miles and his friends » 
Entry Fees
$8  Through February 16
$11 February 17 - March 1
$16 Race day at race site (If available; capacity is set at 2000)

4 yr & Under Kids Run: FREE (Registration on race day only. No Shirt; finisher's receive a ribbon)
---
Race Start Times
The race will be run in heats of each age group in the following order:
| | | |
| --- | --- | --- |
| 8:00: 11-yr boys | 9:15: 9-yr girls | 10:30: 6-yr boys |
| 8:15: 11-yr girls | 9:30: 8-yr boys | 10:45: 6-yr girls |
| 8:30: 10-yr boys | 9:45: 8-yr girls | 11:00: 5-yr boys (1/2 mile) |
| 8:45: 10-yr girls | 10:00: 7-yr boys | 11:10: 5-yr girls (1/2 mile) |
| 9:00: 9-yr boys | 10:15: 7-yr girls | 11:20: 4-yr and under** |
All times are a.m. & subject to change.
*Participants must report to the start 15 minutes prior to their race time.
**FREE Unscored Fun Run (Race day registration only)

Coach "Sly" Johnson Participation Award
In honor of a dedicated coach and father who motivated so many young runners, the Coach "Sly" Johnson Participation Award goes to one school from each county with the most runners participating! To qualify a school must have a minimum of 25 runners participating.  School counts will be based upon registrations received by Friday, March 2nd. A $500 grant and plaque will be awarded to the winning schools.
Who's in the Lead?
Qualifying/top schools from each county as of 03/01/2018:
LAKE COUNTY
First Academy Leesburg 29

ORANGE COUNTY 
Orlando Science Elementary 170
Waterford Elementary 100
Timber Lakes Elementary 75

OSCEOLA COUNTY
Osceola Science Charter School 83
Partin Settlement Elementary 65
St. Thomas Aquinas 30

SEMINOLE COUNTY
Galileo School For The Gifted Learning 112
Lawton Elementary 97
Bear Lake Elementary 74

VOLUSIA
Debary Elementary 38
---
Restrictions
For safety reasons, parents, guardians, baby joggers/strollers, bicycles, rollers skates, in-line skates, and dogs will be prohibited from the race course. The use of headphones is discouraged.