News and Updates Archive
03/24/17
Workplace Wellness Award presented by Orangetheory Fitness
Recognize the wellness advocate in your office. Nominate your co-worker for the Workplace Wellness Award!
We've Got a New, Easier and More Effective Way of Scoring!
To be included in the official results, the Team Captain must record all submitted times AND create scoring teams on manage.Hakuapp.com. The option to submit results and team scores will appear in the Team Captain admin page after 6:45 pm on race night. The admin options are mobile friendly! Read about our new method >>
02/10/17
2016 Recap: Start of Something Big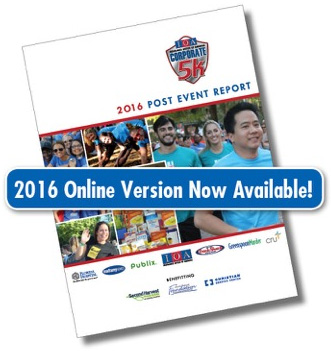 While last night's IOA Corporate 5k seemed like a big-time race in downtown, it didn't start out that way. In 1995, there were about 2000 runners and walkers which was considered a big local race at the time. It's great that so many companies have continued to participate since that first year.  IOA is one company that comes to mind.  
Fast forward to the 22nd IOA Corporate 5k, a picture-perfect night at Lake Eola where 700 companies gathered in the heart of the city celebrating running, walking, camaraderie at work and community caring.  It's thrilling to see the corporate community respond by in contributing 24,000+ meals to Second Harvest Food Bank and the Christian Service Center. Read More >>
View full results >>
View photos on Facebook >>
01/13/16
What's New with IOA Corporate 5k in 2017?
It's never too early to start planning for Orlando's largest run, walk and office party! Each year this 3.1 mile run/walk gets better with the end game to make it easier to encourage employees wellness – in and out of the office! Here's what's new for 22nd IOA Corporate 5k:
• New Industry Award categories designed to increase friendly competition!  
• New online system – HAKU, we think you'll love the efficient features and user-friendliness.
Read more >>
07/27/16
Winner of the $100 #MattamyHomes 2016 Contest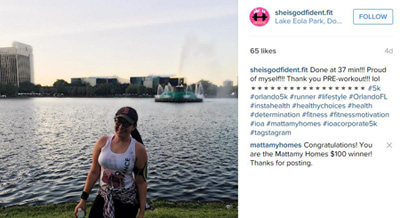 Congratulations Ryan Jevec! 
The Workplace Wellness Award winner. Nominated by fellow employees from Wyndham Vacation Ownership, he 'always strives to help others' and 'shares his knowledge and spreads his excitement to all around him'.  He'll receive:  3 month Orangetheory Fitness Membership Shoes from Track Shack Breakfast for 15 coworkers.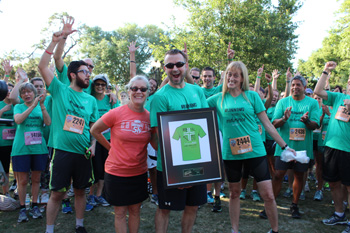 Track Shack T-Shirt Design Contest
Congratulations to CRU! Winner of the 2016 T-Shirt Design Contest with 299 likes on Facebook.
02/25/16
Team Tents 
SOLD OUT! Teams that reserved a tent will receive an email about choosing their tent location.
02/25/16
After months of permitting, planning and procuring for the 21st IOA Corporate 5k what were the chances that unseasonably bad weather might rain on our "parade?"  Unfortunately about 70%!  Up to the minute, meteorologists and local radar were showing a high probability of thunderstorms in and around downtown Orlando at race time. Thankfully more than 17,000 participants enjoyed the event under a light sprinkle of rain bringing slightly coolers temperatures. Read the entire blog >>
 - 17,465 runners and walkers
 - 760 teams - 232 CEOs 


07/31/15
Run to Fly Contest Winner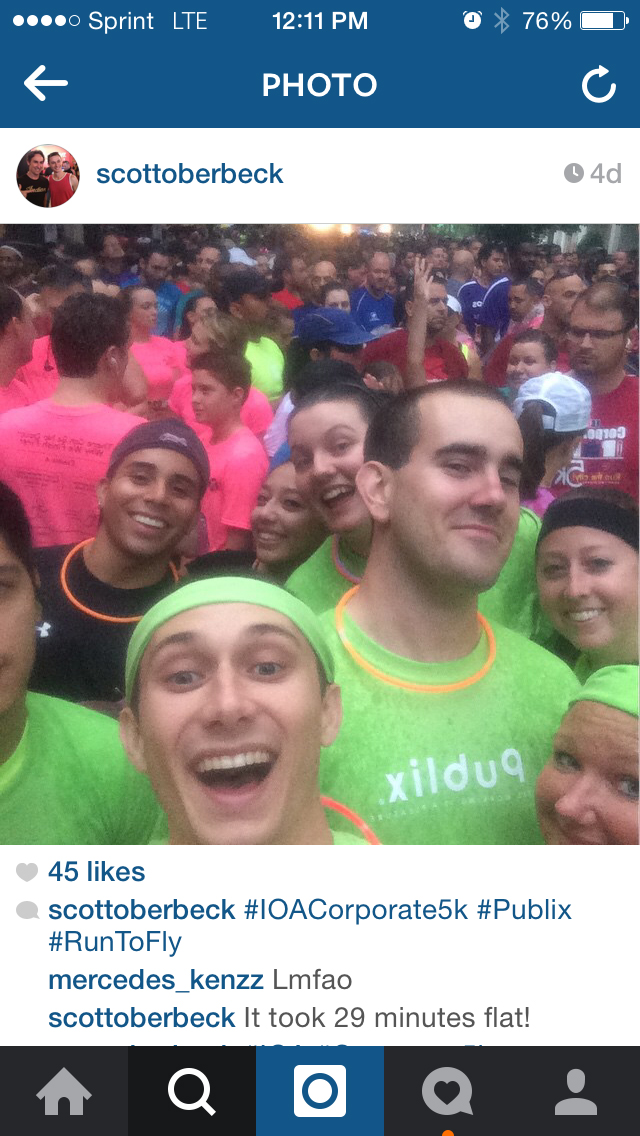 2015 T-Shirt Design Contest
Congratulations to Adventist Health Systems, our 2015 T-Shirt Design Contest Winner!
3/20/15
Worplace Well Award presented by OrangeTheory Fitness
The Leadership Award goes to an employee that exemplifies leadership to improve health and wellness at work.
2014 Recap: 18,000 Person Office Party at Lake Eola 
The event was a genuine celebration of a 20-year effort to create healthy workplaces within Central Florida's business and organizations. An all-time IOA Corporate 5k record was set! 
 - 18,020 runners and walkers
 - 790 teams
 - 260 CEOs 
Read the entire blog >
Registration is open! New features available!
• Team captains can create their team and reserve a tent online in the "Captain Store" all in one transaction.
• Customize registration questions for your team members. Would you like Turkey or Ham sandwich?
• Non-employees can join your team and pay online even if the company is paying for all employees.
• Partial payments accepted! If your company pays a portion of the registration fee ($20), now the participant can register and pay their portion online ($5).
• Team captains can generate an invoice at any time. 
• Create your team today!

12/22/14
2014 Contest Winners
Tom Scalise Leadership Award: Sally Parker, HR Manager, Martin Brower
Team Spirit Largest Team Award: Walt Disney World, Team Captains: Frank Blum & Mike Teplansky
Best T-shirt Design: Hard Rock Hotel, Team Captain: Jo Merrill
2014 Top 6 Largest Teams
996 THE WALT DISNEY WORLD COMPANY 
432 CRU
420 ADVENTIST HEALTH SYSTEM
296 VERIZON FINANCE CENTER, LAKE MARY
266 LOCKHEED MARTIN
261 FLORIDA HOSPITAL- TEAM CREATION
08/08/14
2014 Industry Category Team Results
2014 Overall Finishers
Orlando Business Journal Article & Video
OrlandoSentinel.com Photo Gallery
Corporate 5k Facebook Photo Gallery
Track Shack's Corporate 5k Photo Gallery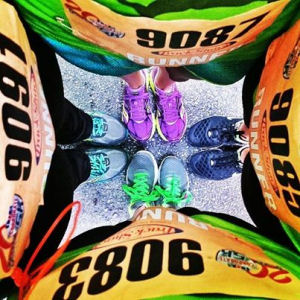 08/01/2014
WIN a Run Away Vacay
Post a pic of New Balance for a chance to win a pair of New Balance and JetBlue tix!
Congrats! The winner is Megan Clary of Stovash, Case & Tingley, P.A.
#RunAwayExcellence


Win A Microsoft Surface

Take a selfie and you could win a Microsoft Surface 2 featuring a 5.0 megapixel camera.
Congrats! The winner is Mohammed Alkowni.
#MicrosoftStore, #Corporate5

4/23/14
Remember the 20th with coworkers and friends! Receive $750 OFF LASIK!
Photos available on Facebook April 24.
#SeeYourselfClearly

4/18/2014
Get Involved
WIN a Run Away Vacay
Post a pic of New Balance for a chance to win a pair of New Balance and JetBlue tix!
#RunAwayExcellence

Photo Booth presented by Hunter Vision
Remember the 20th with coworkers and friends! Receive $750 OFF LASIK!
#SeeYourselfClearly

Win A Microsoft Surface
Take a selfie and you could win a Microsoft Surface 2 featuring a 5.0 megapixel camera.
#MicrosoftStore, #Corporate5k

04/10/14
How many Corporate 5k miles have YOU COMPLETED over the years? Show off your accomplishment! Find out how »
3/25/14
Winning Ways for Workplace Wellness Contest
April Topic: For the 20th year, how many Corporate 5k miles will your team run? Multiply the number of participants x 3.1 (miles) = IOA Corporate 5k Miles! Deadline April 24th. More info »
2/2/14
New Balance Days at Track Shack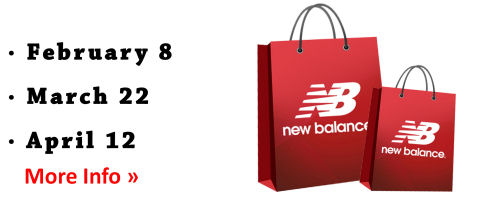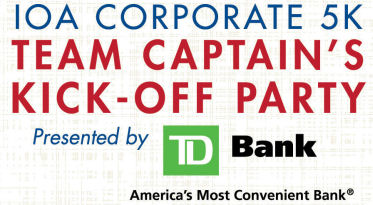 01/29/14 Team Captain's Kick-Off Party Presented by TD Bank
When: Tuesday, January 28, 2014
5:00 – 7:00 p.m.
Room: Solar Exchange

Where: ALOFT Downtown
500 South Orange Avenue
Orlando, FL 32801

Parking: Most convenient parking: Hotel valet $10
Garage and metered surface parking available throughout downtown.
12/31/14 
Team Tent PRESALE
Reserve your tent early to get your desired location! Tent Prices will increase by $50 per size after Dec. 31, 2013 – ORDER EARLY!!
12/17/13
2013 Event Recap -

Pride and confidence was the theme at last night's IOA Corporate 5k as 16,400 runners and walkers took over downtown Orlando to celebrate healthy living with co-workers, friends and family.
Central Florida's premiere night-time corporate run is among the largest in Florida and among the first races since the tragic incident that occurred during Monday's Boston marathon.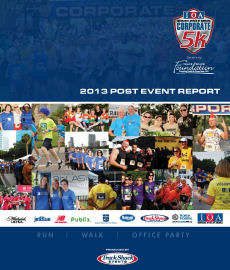 Orlando Mayor Buddy Dyer's participation was a visible sign of his confidence that downtown Orlando is a safe place to be and that we should celebrate our quality of life with the people we live and work with.
Evan Dehart, of WCCI ran a strong race to win as the Overall Men's Champion with a time of: 15:46
Kristen Tenaglia with New Balance ran 17:43 to claim victory as the Overall Female Champion.
Overall Male CEO: Reagan Rick, Fifth Third Bank: 20:03
Overall Female CEO: Melanie Fernandez, Cross, Fernandez & Riley, LLP: 25:20
Total Teams: 690
Total Participants: 16,435

GO TO BLOG FOR ENTIRE STORY >>
VIEW FINAL RESULTS >>
POST EVENT REPORT >>

04/18/13
2013 Contest Winners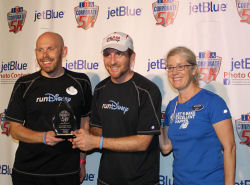 Team Spirit Award: Walt Disney World
T-Shirt Contest: Hard Rock with 624 votes
Tom Scalise Leadership Award: Harris Rosen, CEO & President Rosen Hotels
New Balance Gear Contest: Chris Lidfeldt
JetBlue Photo Contest:
Red Zone –Karen Cheung
Gold Zone – Noelle Trevizan
Blue Zone – Linda DeFalco
Awards Breakfast iPod Winner: Karen McBride, Brown & Brown Insurance

04/18/13
JetBlue Photo Contest

Take your photo in front of the JetBlue photo backdrop located in the Red, Blue and Gold tent zones at the IOA Corporate 5k and you could win a pair of airline tickets from JetBlue! Upload your photos to the Corporate 5k Facebook Page. Winner announced Tuesday April 23rd.
04/18/13
Show us Your Favorite New Balance Gear

Post your favorite New Balance gear (shoes, apparel, accessories) on the Corporate 5k Facebook Wall Now through April 17th for a chance to win New Balance shoes from Track Shack.
04/16/13
Online registration is closed!

To add team members after online registration closes on April 4, bring paper registration form and payment to Track Shack. The Participant Registration Form is on the Team Captain page. Make checks payable to Track Shack Fitness Club.
04/15/13
T-Shirt Contest
Voting has started! Vote here until Friday, April 12th @ 4PM.
03/28/13
Betsy Hughes on Good Day Orlando

Tune in! Betsy Hughes will appear on Good Day Orlando, Fox35 on Thursday, March 28 at 8:00 am.
3/08/13
Team Tents- SOLD OUT!
Tent reservations have closed and are at capacity. Thank you Team Captains!
1/25/13
Team Captain's Party - JetBlue Photo Contest Winner
Congratulations to Mike Taylor from Florida League of Cities. His photo was chosen from 105 Team Captains that entered the contest at the Kick-Off Party last night. Mike Taylor receives 2 round trip tickets on JetBlue Airways.
12/21/12
Press Release:
With the start of the new year comes the Team Captain's Kick-Off Party for the IOA Corporate 5k! Invitations were sent via email to past Team Captain's on December 21st. Sign up for Corporate 5k E-News to receive the invitation to the Team Captain's Party. RSVP is required.
Get excited about Orlando's largest active office party and learn how your organization can get involved. Appetizers and drinks are complimentary. Don't miss the door prizes!
Party Date: January 22nd
Time: 5pm - 7pm
Location: Downtown Orlando - must sign up as a Team Captain for specific location.
12/11/12 2012
Event Recap
The 18th Annual IOA Corporate 5k presented by News 13 and Bright House Sports Network, Orlando's largest office party was the place to be on Thursday, April 12th, 2012. The 72 degree weather was perfect for a 5k through downtown. Over 100 teams recorded their finish times and are listed in the 2012 results.
Runners/Walkers: 13,866
Teams: 667
CEOs: 222
Canned Food Collected: 16,000
Overall Male: Steve Curley
Overall Female: Kerri Girona
Top 5 Largest Teams:
Walt Disney World- 625
Campus Crusade for Christ- 443
Florida Hospital- 325
Lockheed Martin- 242
Orange County Wellness- 228
05/07/12
New Balance iPad Winner
During April, Track Shack customers and IOA Corporate 5k participants were invited to "Donate & Get Fit" for a chance to win an iPad, courtesy of New Balance the official apparel and shoe sponsor of the Corporate 5k. Customers donated their old running shoes and got specially fit for new running shoes.
The iPad winner was David Montanez, Environmental Graphic Manufacturer (Sign Maker) at Florida Hospital.
"I'm a long time runner and I run to keep my cholesterol and health in good shape. I've been shopping at Track Shack so long I remember when it was down the street where the Black Sheep knitting store is now," says Montanez. "I will be deployed to Afghanistan in June with the Naval Reserve Seabee unit for 10 months. The iPad will be a wonderful new tool to take with me during my deployment to stay in touch with my wife, family and friends."
The Tom Scalise LEADERSHIP Award
This year, the Tom Scalise LEADERSHIP AWARD for Workplace Wellness will be shared by: Todd Smith & Ted Rubin, Co-Owners of ActivEngage, a website for auto dealers to increase traffic. Great company focused on healthy employees! They donated $1000 to Relay for Life American Cancer Society!
T-shirt Design Contest for Overall Best Design
- 37 teams submitted designs for their Company T-shirt and 4000 people voted on our Corporate 5k Facebook Fanpage
- Wharton Smith Construction Group received over 400 votes and is the winner of this year's Overall Best Design!