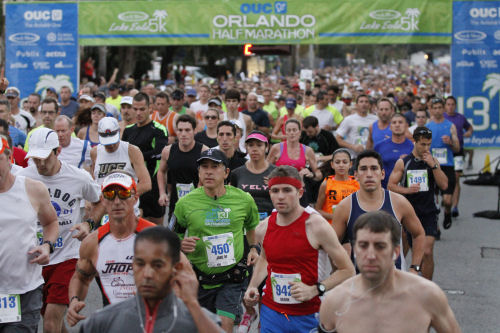 Date, Time & Location
Saturday, December 6, 2014
TBD: Half Marathon Start
TBD: 5k Start

Lake Eola
Orlando, FL
About the Event
One of the southeast's top road race events, winds through scenic Downtown Orlando and beautiful Lake Eola. You will join over 6,000 runners for this Orlando tradition and enjoy live music along the course. Discover the City Beautiful and the fun beyond the run...

Registration is limited to 4,500 entrants in the half marathon and 2,000 in the 5k. Register today!
---

Post Race Party
Registered participants (over age 21) receive two Michelob Ultra drink vouchers. 

Florida Dairy Farmers will serve up ice cold chocolate milk while supplies last along with post race towel.


Get "ICED by Florida Hospital" in the Cool Zone. 

Refreshments from Publix, where shopping is a Pleasure. 
---

Event Photography
Be sure to wear your bib number on the front using all four pins so that it's visible to photographers! Visit www.bbactionphoto.com to view race day photos. Participants will be notified by email when photos are ready for viewing!

---
Restrictions

For safety reasons, bicycles, roller skates, inline skates, and dogs will be prohibited from the race. The use of headphones is discouraged. You must maintain a 16 minute per mile pace or race officials will ask you to move to the sidewalk to re-open the roadways.

Stroller Restrictions
Participants with baby joggers or strollers must start behind designated stroller signage and are REQUIRED to walk/jog no faster than 15 minute per mile in the 5k ONLY; stroller/jogger operators may not weave through packs of runners, and must always yield the right of way to other runners. Failure to comply will result in deletion from official race results and disqualification from participating with a stroller in future events.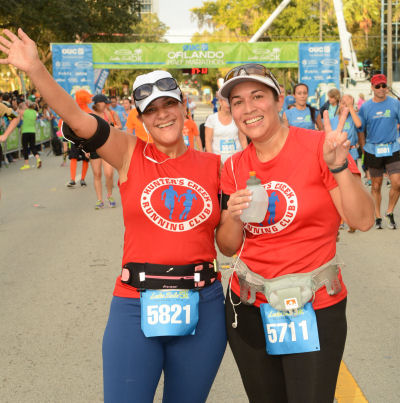 Half marathon capacity: 4,500
5k capacity: 2,000

Online registration available until Thurs. Dec. 4 Bring form to Track Shack after that date.

Entry fees are non-refundable.

Not sure if you already registered online? Click here to confirm your registration! (Online registrations only)

Entry Fees
Half Marathon
| | |
| --- | --- |
| Through July 31 | $65 |
| August 1 - September 30 (Name on race number deadline) | $75 |
| October 1 - November 30 | $85 |
| December 1 - December 5 | $95 |
| 14-17 & younger/ 65 & older | $10 off |
| NO RACE DAY REGISTRATION! | |
5k
| | |
| --- | --- |
| Through September 30 (Name on race number deadline) | $28 |
| October 1 - November 30 | $32 |
| December 1 - December 5 | $40 |
| 8-17 & younger/ 65 & older | $10 off |
| NO RACE DAY REGISTRATION! | |
---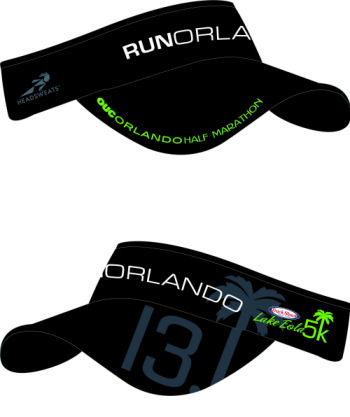 Run Orlando Headsweats Visor
Limited time offer! Get ready for the fun beyond the run at the OUC Orlando Half Marathon by purchasing a Run Orlando Headsweats Visor. Durable and washable. Special $15 deal (plus shipping and handling)!

Buy yours online during registration! Visors are also available for purchase at Track Shack.

---
Refunds and Transfer Policy
There will be NO refunds or transfers of entries from person-to-person. However, if for some reason you cannot compete after registering, you are welcome to defer your entry to 2015 for a small fee. Deadline to defer your entry is Friday, November 14. Click here for details.



Packet Pick-Up Schedule
Please Note: If you register online during packet pick up days your packet will be available the next day at 10:00 am.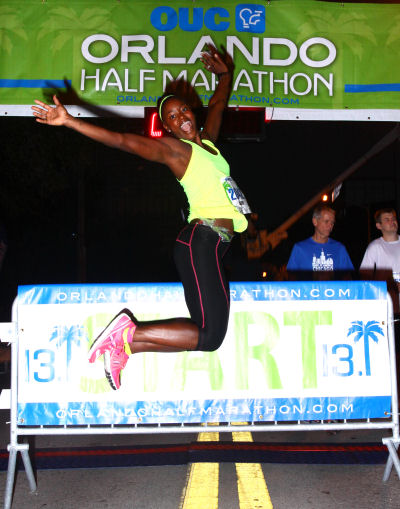 Monday, December 1
10:00 am - 7:00 pm: Packet Pick-up at Track Shack

Tuesday, December 2
10:00 am - 7:00 pm: Packet Pick-up at Track Shack

Wednesday, December 3
10:00 am - 7:00 pm: Packet Pick-up at Track Shack

Thursday, December 4
10:00 am - 7:00 pm: Packet Pick-up at Track Shack
LAST DAY TO REGISTER ONLINE!

Friday, December 5
10:00 am - 7:00 pm: Packet Pick-up at Track Shack
Event Schedule
Saturday, December 6
5:30 am - 6:50 am: Packet Pick-up near Race Start (NO RACE DAY REGISTRATION)
TBD: Half Marathon Start (13.1 miles)
TBD: 5k Start (3.1 miles)
8:00 am: 5k Awards
9:30 am: Half Marathon Awards
11:00 am: Baggage Claim Closes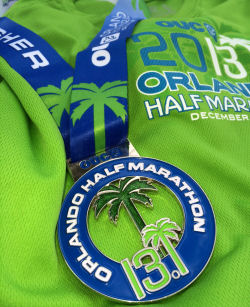 A stunning, commemorative finisher's medal (Click on the image to enlarge the 2013 medal)


A long-sleeve gender-specific tech shirt
---
Course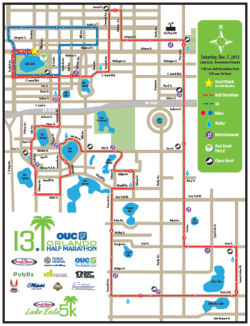 One of the southeast's top road race events, winds through scenic downtown Orlando and beautiful Lake Eola. You will join more than 4,000 runners for this Orlando tradition and enjoy live music along the course.
2014 course map coming soon!

OUC Orlando Half Marathon Course Facts
- Nine water stops about every 1 1/2 miles. Gatorade will also be available.
- Live Entertainment
- Two Port-O-Lets at each water stop
- One food stop with GU Gels at approximately mile 8.5.
- Approximately 2.4 miles of brick
- Two on course tents will include an EMT and self-serve supplies such as Band-Aids, Blistex, sunscreen, Biofreeze, blister relief. Mile 5.2 and 10.
- Bike medics will be on course.

---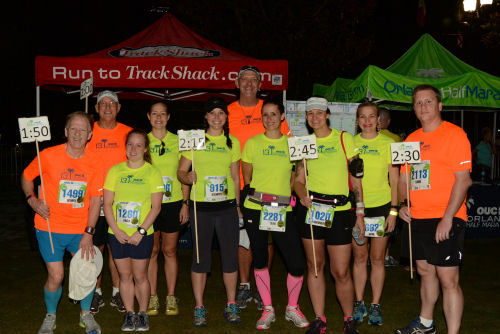 Pace Groups by MarathonFest
Want to make sure you make it to the finish line by your goal time? Pace Groups by Track Shack's MarathonFest will get you there! Sign up at Track Shack during race week (Dec. 1-5) or at the OUC Orlando Half Marathon tent on race day where you will meet up with your pace group leader. Registration is free and is open to all half marathoners!

Half Marathon pace groups will be offered for the following target finish times: 1:40, 1:50, 2:00, 2:15, 2:30, 2:45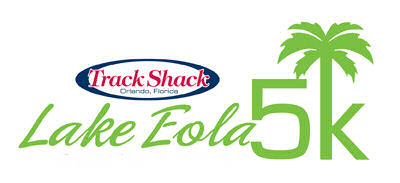 Track Shack Lake Eola 5k Perks
---
Course
This scenic and shady 3.1 mile route meanders through beautiful downtown Orlando neighborhoods. 5k water stop is at the halfway point.

Course map coming soon!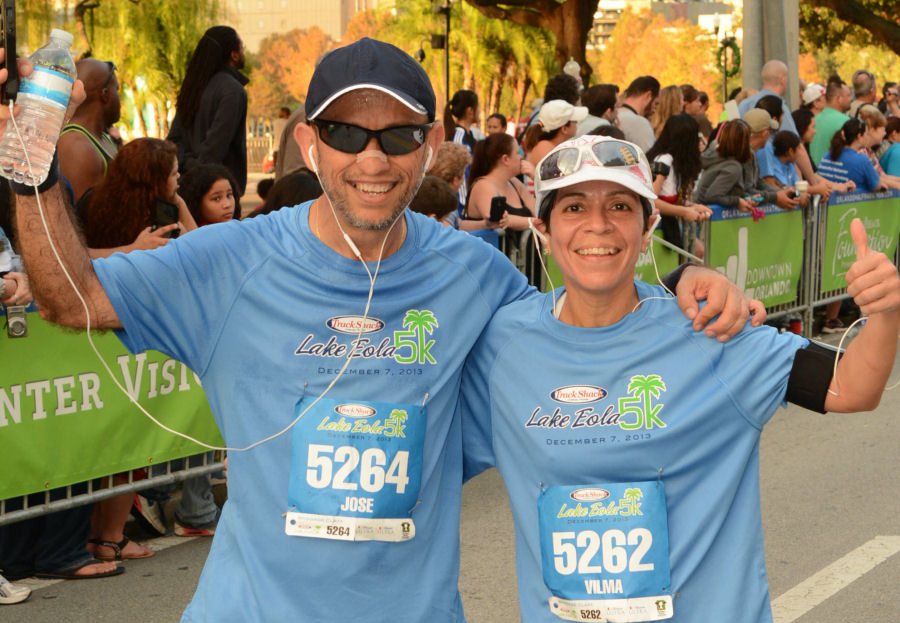 B-Tag Scoring

The B-Tag by ChronoTrack is the timing device used to score half marathon and 5k participants. The B-Tag is attached to the back of the runner bib number.

---
Finisher's Medal
Half Marathoners will receive a stunning, commemorative finisher's medal.


---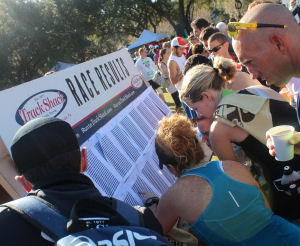 Results
2012 Half Marathon & 5k

2011 Half Marathon & 5k

2010 Half Marathon & 5k

2009 Half Marathon & 5k
---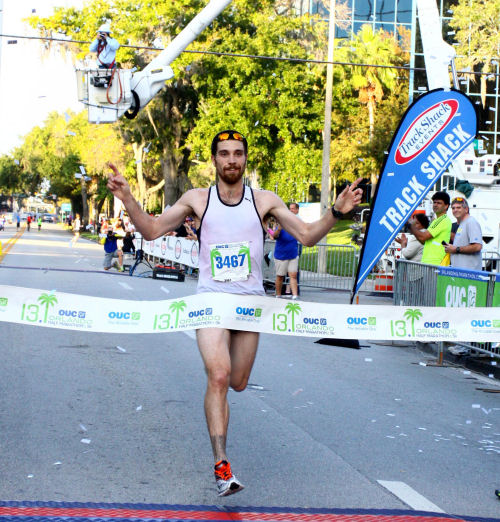 Half Marathon Award Categories
Overall – Top 5 M / F
Masters – Top M / F
Age Group - Top 5 M / F
Race Walkers – Top 3 M / F
Wheelchair – Top M / F

Half Marathon Age Division
14-18     35-39     55-59     75-79
19-24     40-44     60-64     80 and over
25-29     45-49     65-69      
30-34     50-54     70-74      

Note: Runners and walkers ages 14 and above who wear the designated B-Tag are included in the race results.

Half Marathon Prizes
Merchandise prizes and prize money totaling $3,400 will be awarded to the top three overall male and female athletes!

1st $850
2nd $500
3rd $350

Merchandise prizes will be awarded to the 1st place male and female in each age group. Please note, overall awards are based on Gun Time. In the interest of fairness, the Masters, and Age Group awards will be based on Net Time.

---
5k Awards
Overall Top 10 M / F
No age group awards in the 5k.

Note: Runners and walkers ages 8 and above who wear the designated B-Tag are included in the race results.

---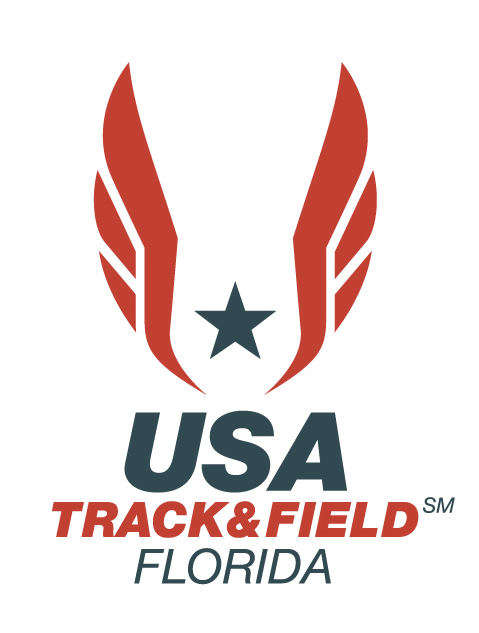 USATF OPEN Half Marathon Florida Association championship
The OUC Orlando Half Marathon is the USATF OPEN Half Marathon Florida Association championship race for Men and Women. Prize money awarded to the Top 3 Male and Female Floridian/USATF Members:
$100
$75
$50

ELIGIBILITY REQUIREMENTS: One must be a 2014 USATF member to enter the Championship. If one does not have a 2014 membership, please complete a membership application first. Note: one may enter with a 2015 membership number as long as your membership is valid for 2014. One must also meet the eligibility requirements.

More info or to download an application: http://florida.usatf.org/Home.aspx

NOTE: **2015 memberships can be purchased starting November 1st and 2014 memberships expire Dec. 31 2014 so for two months (members) can have both.**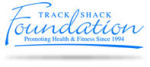 The Track Shack Foundation, is a 501©(3) organization that helps provide health and fitness opportunities to young Central Floridians through the funding of youth athletic programs.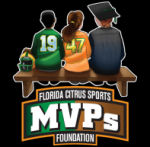 The Florida Citrus Sports Foundation is committed to enhancing the quality of life for disadvantaged youth and families in Central Florida. This is accomplished through the Foundation's charitable contributions to organizations dedicated to improving the lives, health and education of children in our community.
---
Sister City Program - Orlando, FL & Urayasu, Japan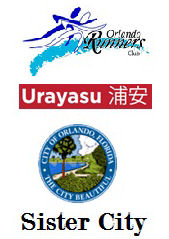 Our Sister City exchange program with Urayasu began in 1989 to promote cultural understanding and stimulate economic development. The program aims to help residents and businesses exchange ideas related to education, science, culture, commerce and tourism. In 1996, the Orlando Runners Club entered into a Sister Club Affiliation Agreement with the Urayasu Runner's Club to strengthen the ties of friendship, and to contribute to deeper understanding and broader friendship between the American and Japanese people.

Each year the Orlando Runners Club selects four runners to participate in the Tokyo Bay Urayasu City (Half) Marathon, touring historical and educational sites, having tea with the mayor and are honored guests at the race itself and at the annual Urayasu Runners Club banquet. Two nights are spent at the home of a Japanese family to promote cultural exchange and friendship with our sister Club. In return, four runners from Japan are similarly hosted here by the Orlando Runners Club in December for the OUC Orlando Half Marathon. The Japanese runners spend several days sightseeing in Central Florida, and they are the honored guests at Orlando Runners Club's annual Christmas party. For more information, please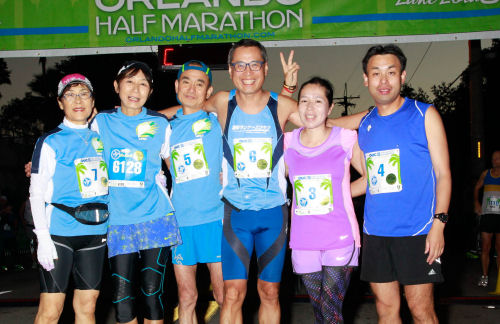 contact Orlando Runners Club President: Michele Ward at 407-766-6316.
| | |
| --- | --- |
| Thanks to our sponsor for supporting this community event. | |
| | |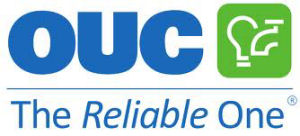 OUC–The Reliable One is a municipal utility owned by the citizens of Orlando. It provides electricity and water services to customers in Orlando, St. Cloud, and parts of Orange and Osceola counties. OUC continues to live up to its name. It has been honored four times as the most reliable electric utility in the Southeastern United States by PA Consulting Group, a leading management, systems, and technology consulting firm. Use the OUC Preferred Contractor Network to find a qualified, licensed contractor to make efficiency upgrades to your home. It's fast and easy and you'll receive your rebate at the point of sale.


---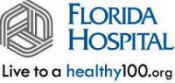 Florida Hospital is one of the country's largest not-for-profit health care providers with 22 campuses serving communities throughout Florida. Florida Hospital's Healthy 100 program was created to educate and motivate people to adopt healthy lifestyle changes. It focuses on eight proven principles that guide people to live healthier, longer lives.
Visit the Florida Hospital tent on-site and get 'ICED' in the cool zone and find out what Healthy 100 is all about! 


---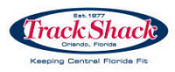 We are your hometown running and walking headquarters, your one stop shop for the highest quality shoes and apparel expertly sold by a knowledgeable staff. We are your inspiration for change and motivation to empower others. Get fit and feel great!

Check out the Track Shack before the event! We are selling Brooks Event T-Shirts and Headsweats Visors while supplies last. Beginning in November, purchase over $100 of Brooks merchandise in store and become a Brooks VIP day of race and use the VIP Restroom facilities.


---

We help people achieve health and financial security by providing easy access to cost-effective, high-quality health care. And we continue to be a leader in building a stronger, more effective health care system by working with doctors, hospitals, employers, patients, public officials and others. Aetna has a long history of providing healthcare for OUC employees and is excited to sponsor this community event.
---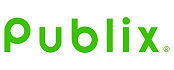 Publix Super Markets is the largest and fastest-growing employee-owned supermarket chain in the United States. Publix and our associates excel in community involvement, volunteerism and a commitment to our market areas and beyond.  Publix's commitment to diversity has contributed to our success in being a great place to work and shop.

Stop by the Publix tent on-site for post-race refreshments!


---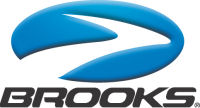 Brooks Sports, Inc. is your go-to company for anything and everything related to the run. As a leading running company that designs and markets high-performance men's and women's running shoes, apparel and accessories in more than 40 countries worldwide, we are dedicated to inspiring people to run and be active by creating innovative gear that keeps them running longer, farther, faster and happier.

Be sure to check out Brooks in Track Shack during race week at Packet Pick-Up and have a chance to experience the Brooks VIP Porto-Lets by purchasing over $100 worth of Brooks gear at Track Shack beginning in November.


---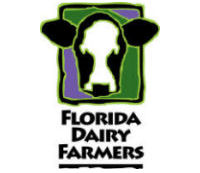 Florida Dairy Farmers is a farmer-funded organization that works to educated people about the state's dairy farming industry and promote dairy foods as an important part of a healthy lifestyle.

See the Florida Dairy Farmers on race day and get your ice cold chocolate milk and towel while supplies last.


---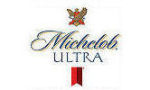 Michelob Ultra offers the perfect balance between the crisp refreshment and light clean profile that can take you to the ULTRA life – the life that is a balance between working hard, and taking it easy.

Get the ULTRA life at the OUC Orlando Half Marathon post-race party!


---

The Orlando Downtown Development Board (DDB) strengthens the role of Downtown Orlando as the economic, governmental and cultural center of Central Florida. The DDB is responsible for the planning, implementation and administration of the City's core area redevelopment and development program. On your run at the OUC Orlando Half Marathon, see all there is to see in our beautiful city.
---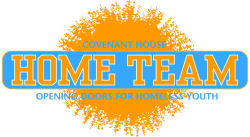 Like loved ones who cheer their favorite athlete to the finish line, Covenant House Florida aims to prepare homeless youth for a healthy transition into adulthood. Our agency cannot make such an impact without the help of the dedicated athletes on the Covenant House Florida Home Team. Take on the challenge of endurance competition not only for yourself, but also to help raise awareness and resources to change the lives of Central Florida's homeless youth. Find out how!
---

Florida Citrus Sports is a not-for profit membership organization dedicated to increasing community spirit and pride, promoting tourism, stimulating economic development and ultimately benefiting charities, educational institutions and the quality of life in Central Florida through its signature events. The Florida Citrus Sports Foundation is committed to enhancing the quality of life for disadvantaged youth and families in Central Florida. This is accomplished through the Foundation's charitable contributions to organizations dedicated to improving the lives, health and education of children in our community.
---
Baker's Dozen- Half Marathon Group Training

Half marathon group training available with Susan Paul, Track Shack Training Program Director and coach of MarathonFest, the largest marathon and half marathon training program in the country.

Training program begins September 2, 2014. More info »
13 Weeks to 13 Miles Training Guide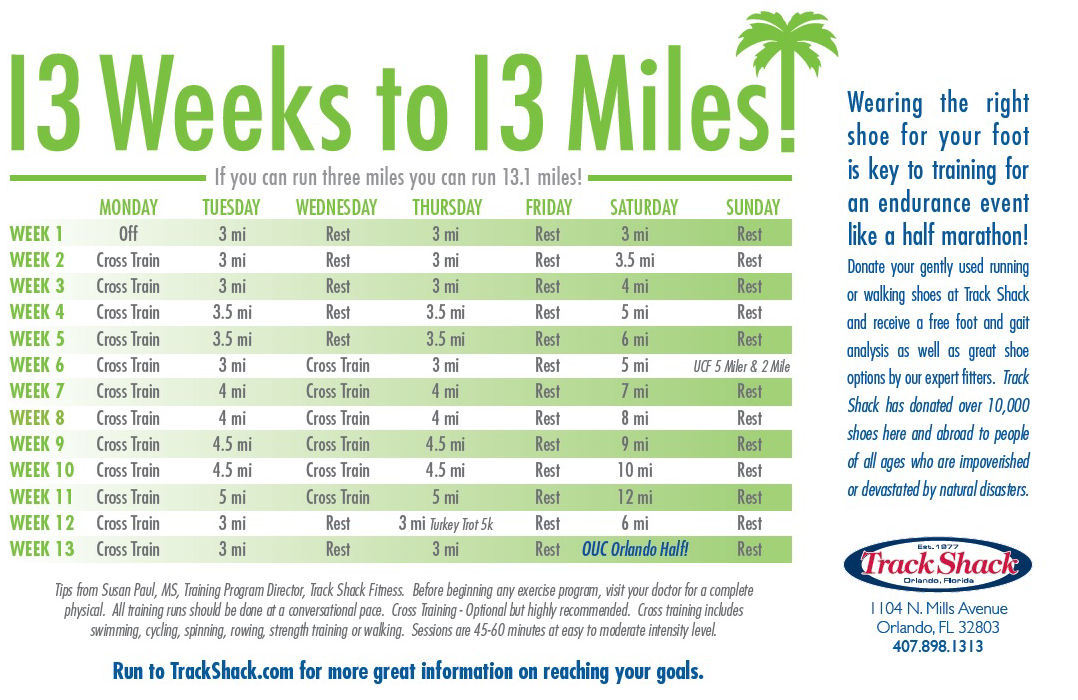 Getting to the Race & Parking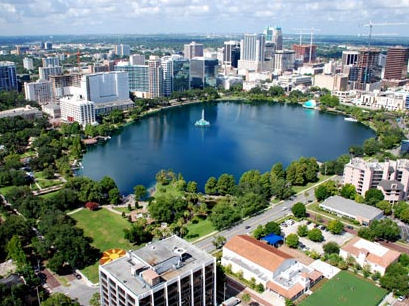 Driving Directions to downtown Orlando
From East:
Take I-4 W to SR 50 / Colonial Dr. exit (#84) and cross over Colonial Dr. where it turns into Hughey Ave.

From West:
Take I-4 East get off the South St. exit (#82B) to Garland. You can also take Amelia St. exit (#83A) turn right on Amelia to get to Orange Ave.

From 408 East:
Take Mills Ave. exit and go left on South St.


Parking
Limited parking along side streets; parking garages are located at the corner of Rosalind St. and Robinson Street, as well as various other locations throughout downtown Orlando. Parking garage rates may apply.

Getting around downtown Orlando

---
Downtown Orlando Hotels
2014 entertainment coming soon!











2013  Race Entertainment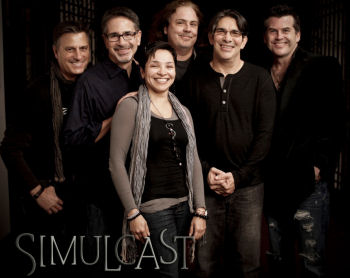 SIMULCAST
Simulcast is the brainchild of Fox 35 news anchor Bob Frier and MIX105 morning man Scott McKenzie. Other members include lead singer Gladys Justiniano, Mark Dawson on bass, Ben Van Hook on guitar, and Tony Triozzi on drums.  Simulcast has shared the stage over the past 6 years with some amazing talent such as: Goo Goo Dolls, Five for Fighting, Collective Soul, Matt Nathenson, The Doobie Brothers, Cheryl Crow, and REO Speedwagon. 

They have performed at venues such as the House of Blues, Seaworld, Universal Studios, and The Hard Rock Cafe. 

---


Course Entertainment
National Anthem - by: Andrea Tyler

Location:

Start Line


Andrea Tyler has been featured throughout Florida's theme parks and entertainment agencies. She has had the honor of singing backup for Christina Aguilera, Michael Bolton and Vanessa Williams. She currently spends her time singing for Central Florida Community Arts and performing tribute shows as Adele.


Steel Drum

Location:

Thornton Ave / Central Blvd - Near Mile 1    


Dave Capp - Solo Saxophonist
Location:

Between mile 1-1.5


David Capp grew up in Syracuse, NY, and received his Master's degree from Syracuse University's Visual and Performing Arts College. He has been a professional saxophone player in Central Florida for 15 years, performing in jazz, rock, R&B, latin and contemporary Gospel bands. Dave heads his own jazz/blues variety band called "The Dave Capp Project," and plays regularly at the theme parks, House of Blues, Orlando Museum of Art and other venues around Central Florida. Favorite gigs include performing with Mary Wilson & the Supremes at the Ritz Carlton and with the Legendary Drifters with Bobby Hendricks. He currently is one of the players in the BLUES BROTHERS show at Universal Studios. Check out his website and listen to his original songs at: www.DaveCapp.com. 



Bag Pipers
Location:

2602 Livingston (Eng Bldg) - Near Mile 3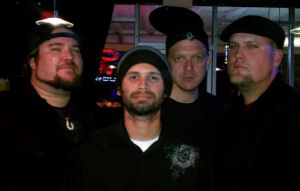 Underhill

Location: Near mile 3.5
Winner of our 2013 Battle of the Bands at Autumn Rock N' Run 5k. Underhill is an Orlando based rock band that has been playing together for three years. Underhill enjoys a reggae rock vibe with influences like Red Hot Chili Peppers, Dirty Heads, and Sublime.  Underhill loves performing covers and original music around the Central Florida area. 



ORLANDO TAIKO DOJO

Location: Near mile 5.25
Crystal Lake Drive / Grant St.

Orlando Taiko Dojo is a Japanese drumming troupe who very actively performs in Central Florida. They are a subsidiary team to Matsuriza who performs at EPCOT in Walt Disney World. Orlando Taiko Dojo demonstrates the traditional art of Japanese drums known as "Taiko". Taiko drums were used in battlefields and have been used in religious ceremonies and festivals for over 2000 years in Japan.




SOUL EQUATORS



Location:

Approx. 7 miles
Intersection of Bumby/Raeford Rd.

The Soul Equators are a 6-piece horn driven classic soul and R&B revue based out of Orlando, FL. With some of the top musicians in the area, they offer a level of musicianship and experience that is simply stunning. They've come together with a passion for that classic soul sound that can work a nightclub into a frenzy with infectious beats, stellar musicianship and classic R&B hits.




Spirit Team/Cheerleaders
Location:

Michigan / Fern Creek - Near Mile 7.5   




Holiday Jazz Band- Performed by Josh Wilson and Boogie Mammoth

Location:Bahama St / Gore - Near 9.25
Assembled from the lush jazz community of Central Florida, Boogie Mammoth is a quartet of avid jazz musicians whose diverse musical tastes and personal sounds have accumulated into a distinctly funk-fevered tonal organization. Keep your A and E minors in after dark — Boogie Mammoth is dropping nines and flatting thirteenths across Orlando with a burst of trio-plus-one fanfare.   




Carolers - Performed by Legacy

Location:

Summerlin / Lake Davis Intersection - Near 10.4 

Legacy! is a professional musical group comprised of the best of Central Florida Community Arts' singers – the cream of the crop! These top notch vocal ambassadors of CFCArts are available to perform in ensembles of varying sizes and are the perfect addition to corporate functions, private parties and other special events. Legacy! members are available to sing in a variety of styles, including Broadway, gospel, Christmas, patriotic and jazz and their repertoire and style can be customized to your needs. Best of all, unlike other singing groups in the region, Legacy! is available on a tax-deductible donation basis.






DJ Paulee

Location: Approx. 12.3 miles into the final stretch of the half
Constitution Green Park

DJ Paulee is a student of music continually perfecting his craft and is totally up with the times. He caters the music to fit the style of your event using one of the largest music libraries in the business.  His enthusiasm and attention to detail is a unique trademark in the entertainment industry. No matter what the occasion - themed parties, weddings, birthdays bashes, anniversary celebrations, corporate events, half marathons... you name it he can do it.

Are you looking to cheer on your friends and loved ones as they run 13.1? MAKE A PLAN and make it easy for them to spot you cheering them on! Click here to print out the tips and spectator locations.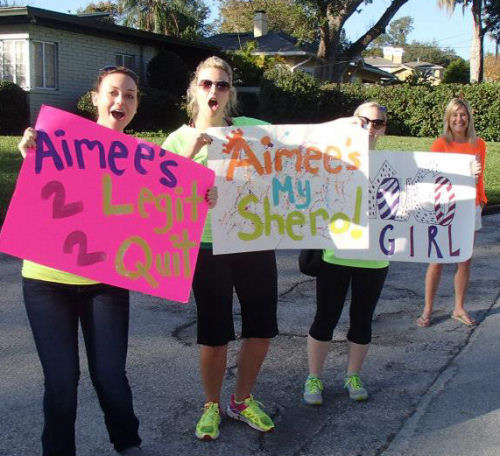 10 SPECTATOR AND CHEER LOCATIONS
Before Mile 1. East Central Blvd. and South Summerlin Ave. at Hue Restaurant

Before Mile 2. East Concord St. and North Ferncreek St. Perfect open lot.

Mile 3. Livingston St. and North Primrose Dr. Lots of grass along Festival Park.

Mile 3.5. East Jackson St. and South Primrose Dr. Cherry Tree Park and the Brass Quintet is near.

Mile 4. Between Clemwood St. and East Gore St. on South Primrose Dr.
HINT: From Mile 4, take Gore St WEST to Bumby Ave. catch your runner before Mile 9!

Mile 5.5. East Grant St. between Rest Haven Ave. and Conway Gardens Dr. Near the
Masonic Temple.

Mile 7.5. Raeford Rd. and South Bumby Ave. Lots of space on the West side of the road for groups to cheer.

Mile 8.75. Intersection at East Gore St. and South Bumby Ave. Lake Como Elementary has plenty of space!

Mile 9.5. East Gore St. and South Mills Ave. At 903 Mills Market. Enjoy a breakfast wrap and mimosa! Take a walk to Lake Davis and watch the parade of runners near the Lake.
HINT: From Mile 9.5, take Gore St WEST to Euclid Ave to catch your runner after Mile 11!

Mile 11.25. Richmond St. and Euclid Ave. This area is beautiful with two parks, Al Coith Park and Delaney Park!

*These locations are subject to change as 2013 course is being finalized.

SPECTATOR TIPS
Follow these tips and you won't miss a single step of your runners' race! DON'T KNOW ANYONE RUNNING? We have some tips for you too!

1. YOUR CHEERING LOCATION should be planned ahead of time so your runner can spot you on the course! VIEW PACE CHART »

2. WEAR BRIGHT COLORS and tell your friends what you'll be wearing so they can spot you.

3. HOMEMADE SIGNS are so inspiring. Funny is also good. A sign with your runners' name works every time.

4. WAIT A LITTLE LONGER if your runner hasn't past in the expected amount of time. They make take longer than expected.

5. DRESS COMFORTABLY. Check the weather and plan accordingly. Rain, shine, warm, or cold, the race will still go on!

6. CHEER as loud as you can! Runners feed off the energy that the crowd generates.

7. PERSONALIZE YOUR CHEERS Yell out runners' names on their bibs or t-shirts.

8. CHEER ON EVERYONE! You may be giving encouragement to someone who needs it to keep going!

9. ESTIMATE YOUR RUNNERS LOCATION and have enough time to get from one location to the next if you are viewing from multiple locations.

10. POSITIVE CHEERING helps runners finish! Never tell a runner they're almost done when they are not.

Participants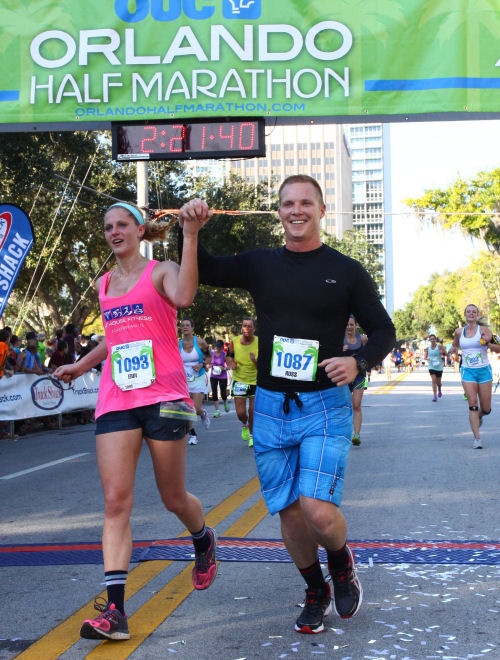 Can walkers participate?
Of Course! The Orlando Half Marathon and 5k is for athletes of all speeds. Please note: Due to city road closure and traffic requirements, half marathon participants MUST maintain a pace of at least 16:00 minutes per mile (or faster).

Are there any age requirements to participate?
To participate in the Orlando Half Marathon one must be 14 and 8 years old to participate in the 5k.

How can I volunteer?
Click here to sign up to volunteer! Volunteers are the backbone of all our events and are always needed and welcome.

Registration/ Packet Pick-up
Can I change my mind about which distance to run?
You can switch distances for a small fee. Click here for details.

What if I register and then become injured or am unable to attend?
There will be NO refunds or transfers of entries from person-to-person. You can defer your entry to 2015 for a small fee. Deadline to defer your entry is Friday, November 14th.
Click here for details.

When/where can I pick up my race packet?
Race packets will be available to pick up at Track Shack (1104 N. Mills Ave. Orlando, FL 32803) between December 1-5 from 10:00 a.m. to 7:00 p.m. Race packets will also be available on race day at the race site start starting at 5:30 a.m.

Can someone else pick up my race packet?
You can have a family member or friend pick up your race packet as long as you gave them the permission.

How can I make changes to my registration?
Please email susan@trackshack.com or annie@trackshack.com.

What is included on my personal bib?
Your personalized bib will include your first name and your race number. Must register by Sept. 30.

---
The Race and Course
Will the race be timed?
The Half Marathon and the 5k will be timed using the ChronoTrack timing system. A ChronoTrack B-tag will be located on the back of the race bib. Do not remove, bend or break the ChronoTrack B-tag. Without the B-tag, your official time WILL NOT be recorded.

Where are the aid stations and what is being served?
There will be nine Water/Gatorade stations, about every 1 1/2 miles.

Are MP3 players and/or strollers allowed on the course?
MP3 players with headphones/earbuds ARE allowed on the course. For the safety of yourself and the other participants, baby joggers, strollers, baby carriers, baby backpacks, inline skates, motorized scooters, bicycles, skateboards, canes, crutches, walkers, walking sticks and animals of any kind are prohibited from the course.

What if it rains?
The race will be held rain or shine. If there is lightning in the area the race will either have a delayed start or, depending on the intensity of the weather, be cancelled. The determination will be made by the Event Management staff.


---
Parking
Where do I park for the event?
Limited parking along side streets; parking garages are located at the corner of Rosalind St. and Robinson Street, as well as various other locations throughout downtown Orlando. Parking garage rates may apply.

How do I meet my family/friends after the race?
A site map will be posted on the website. Review the site map and plan for a designated meeting spot and time. Communicate your estimated finish time.

Post-Race Info
Where can I find race results?
Race results are available on www.trackshack.com

Who can I contact if I have further questions?
Please call us at 407-896-1160 or email info@trackshack.com






There's something for everyone in Orlando. Immerse yourself in the world's top vacation destination, Orlando, The City Beautiful. Whether you are a die-hard visitor to Orlando, a newcomer to our city, or a local you will find new ways to create lasting memories! Below are a just a few suggestions for shopping, activities, parks and spas.

Activities
Sports
Ecotours
National and State Parks
Shopping
Spas
Culture
Ballet
Theater
Museums
Symphony
Art Gallery
Theme Parks
Resources

ChronoTrack Live
Live results and Automatic Updates will be available the week of packet pick up.

Live Results/Website Tracking

This allows you to track an athlete online as they compete. Click here for live results.

The following splits will be provided in the half marathon: 5k, 10k, 15k and finish.

Automatic Updates
This enables real-time mobile results. Sign up to receive text message, Facebook or Twitter runner updates.

Note: If you register during race week, you will be able to sign up for tracking on Friday after 10:00 am.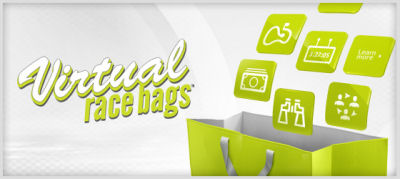 Virtual Race Bag
We are going green! In lieu of handing out a race packet full of paper coupons and flyers, a virtual race bag will be emailed to all half marathon and 5k participants! This email will be packed with offers, coupons, and promos.

Important Dates:
Virtual Race Bag available on website         Monday, December 1, 2014 - Friday, December 12, 2014
Pre-Race Email Send                                Fri, December 5, 2014
Event Date                                              Sat, December 6, 2014
Post-Race Email Send                              Tue, December 9, 2014
Bag Closes                                            Fri, December 12, 2014


News & Updates Archive
2013 Event Recap
Event Recap >>
5k Results >>
Jetblue Wanna Go? Contest Winners:
Stacie Marchionne
Gene Sanderfield