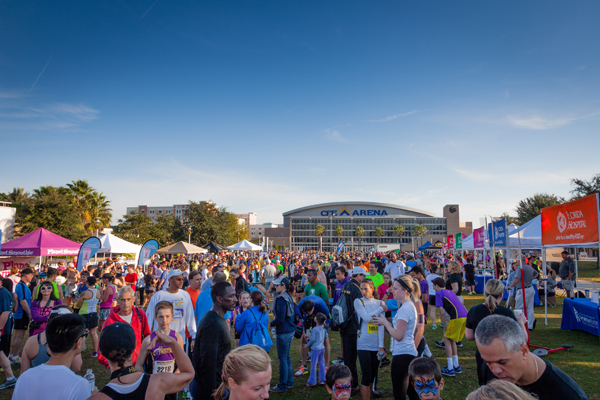 Date, Time & Location
Sunday, October 29, 2017
7:30 am: 2 Mile
8:00 am: 5 Mile
8:40 am: 2 Mile Awards Ceremony
9:15 am: 5 Mile Awards Ceremony
9:30 am: Florida Hospital for Children Kids' Run

Spectrum Stadium
4465 Knights Victory Way
Orlando, FL 32816
About this Race
Join us at the beautiful University of Central Florida campus for a morning of fun, fitness and action. Runners, walkers, alumni and students- the 3rd race of the Track Shack Running Series captures it all. GO Black and Gold!
40 Gifts
The Track Shack Running Series is celebrating 40 years and nothing says party like presents! A random selection of 40th finishers receive a gift from Track Shack at each Track Shack Running Series race! A maximum of 40 gifts per an event will be given out based on unofficial results. Must be present to win.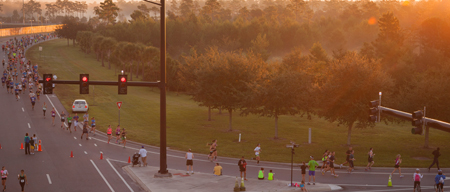 Event Highlights
• Let the pros at Florida Hospital treat you like a pro
• Run through the Spectrum Stadium!
• UCF vs UCONN football game ticket (limited quantity available through online registration only)
• 5 Mile Finisher's Medal
• Distance Dare
• FREE Florida Hospital for Children Kids' Run
• Chip Timed
---
Safety is our first priority!

Bicycles, roller skates, in-line skates, and dogs will be prohibited from the race course. The use of headphones is discouraged.

Walker Friendly Events
Keeping Central Florida Fit is our mission. Walkers are encouraged to participate in all Track Shack races. Municipalities require that road ways are clear of participants and opened as soon as the race is complete. That is why a maximum pace of 16 minutes per mile is set. If the pace isn't maintained, race officials will ask you to move to the sidewalk to re-open the roadways.
Stroller Restrictions
• Stroller/jogger operators start behind designated stroller signage in the 2 mile ONLY.
• Stroller/jogger operators may walk/jog no faster than 15 minute per mile, a safe operating speed. If your speed goes faster than 15 minutes per mile pace, you may be disqualified.
• Stroller/jogger operators must yield the right of way to runners. Stroller/Joggers can tip easily and cannot turn quickly. Please do not weave through packs of runners.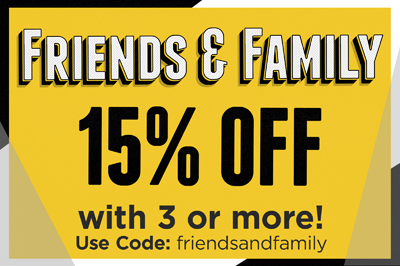 Entry Fees


 

5 Mile 
Capacity: 2,000

2 Mile
Capacity: 1,200

Distance Dare (DD)
Capacity: 750

Through Oct. 14        

$38

$29

$60

Oct. 15 - Oct. 28


$44

$33

$69

Race day at race site

$49

$38

$80

Virtual Race
No discounts apply

$43

N/A 

$65
17 & under and 65 & over

Through Oct. 28: $10 off the 5 mile and DD; $5 off the 2 mile.
No other discounts apply.


Race day at race site: Same as race day fee above

UCF Students

Through Oct. 28: $10 off the 5 mile and DD; $5 off the 2 mile.
No other discounts apply.
Discount code: Contact us for discount code.
UCF students must present UCF ID when picking up race packet.


Race day at race site: Same as race day fee above

Friends and Family Pricing

Through Oct. 28: Receive 15% off when you register 3 or more participants
Use code: friendsandfamily
Valid on online registrations only
Must register all participants under one transaction 
Florida Hospital employees receive a $5 discount. Employee ID must accompany paper registration. Coupon code is required for online registration. No other discounts apply. NOTE: Code distributed by Florida Hospital. Contact: FH.Sports.Med.Info@flhosp.org
---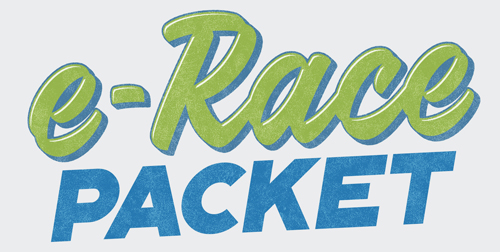 Race Number/Shirt Pick-Up & e-Race Packet
Race number and t-shirt, available at Track Shack and at the race site on race morning. Track Shack is located at 1104 N. Mills Ave. Orlando, FL 32803. Email: info@trackshack.com
Participants will receive an e-Race packet (directly to their inbox) with all the good and helpful race info including the course map, race instructions, special offers and race promotions.
If you are picking up for 3 or more participants, please bring a reusable bag.

| | |
| --- | --- |
| Wednesday, Oct. 25 - Friday, Oct. 27 | 10:00 am - 7:00 pm |
| Saturday, Oct. 28 | 9:00 am - 5:00 pm |
| Race day at race site | Starting at 6:00 am |


Medals and Tech T's
• All entrants receive a gender specific Greenlayer Sports micromesh fabric tech tee.
View sizing chart  >> . Sizes are not guaranteed on race day registration.
• 5 Mile finishers can proudly display their accomplishment with the 3.5 inch Shield medal!


---
FREE UCF Football Game
Participants can claim a ticket to the UCF vs UCONN game on November 11th (while supplies last). Additional ticket available for purchase.
---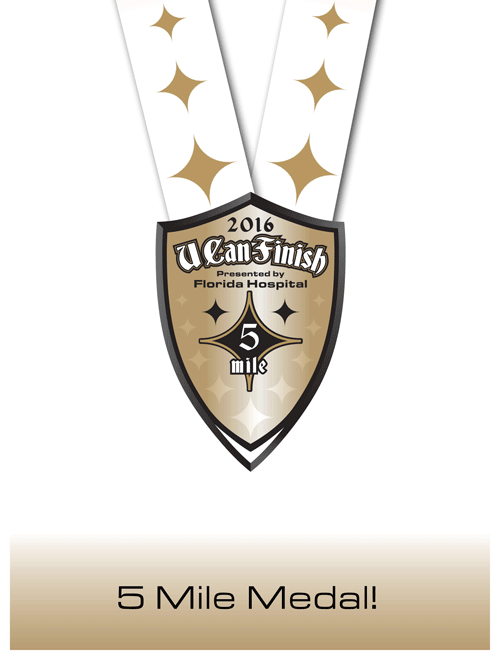 Distance Dare
Spice up your race by racing both the 5 Mile and the 2 Mile distances for a total of 7 miles! Register early! Capacity is set at 750. 2016 medal pictured.
• Distance Dare finishers receive a mighty 6-inch sword that attaches to the 3.5 inch Shield 5 mile medal with magnets! 
• Gain more mileage at one event
• Receive cumulative race results for both the 5 mile & 2 mile
Start your collection of "Distance Dare" Results!
Note the start time of both races to make sure you are able to complete the 2 Mile race before the start of the 5 Mile.


---
UCF Student Team Challenge
EARN $500 FOR YOUR STUDENT ORGANIZATION!
Track Shack will be hosting the most active event on campus, the U Can Finish 5 mile and 2 mile with 2600 runners and walkers. UCF Student Organizations can compete in the student challenge by recruiting a team to run/walk. The largest team (minimum 15) wins $500!

Be sure to join your team's organization when registering to be counted.
---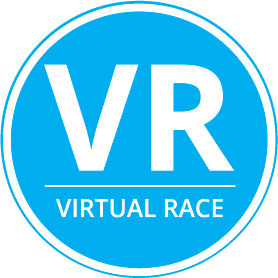 5 Mile and Distance Dare – Virtual Race Option
Can't make it to the race but still want to experience the excitement and achievement?  Sign up to run the virtual race!
• Register online.  Select 5 Mile or Distance Dare virtual.
• Race capacity is set at: 5 Mile: 2200 and Distance Dare: 750 
• Wednesday before the race, we'll email a race bib.
Here's how to run a virtual race:
• Run or walk the distance wherever you are 
• Break your run up into multiple sessions
• Run on a treadmill
• Post a photo and share your virtual race experience on your social media using the hash tag #ucanfinish. This is optional but fun!
• So easy! Then just wait for your medal and t-shirt to arrive by mail within two weeks following the race.
---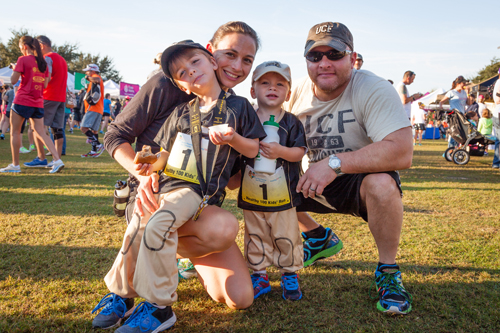 Kids' runs are free for all children. Distances range from 100 yards to 1 mile and children will be placed in age appropriate groups. Registration is on race day at race site. Free t-shirts in youth & toddler sizing are available to registered participants on a first come, first served basis. All participants receive a finisher's ribbon! 

---
Celebrating Your Accomplishment
All finishers receive a finisher's certificate. Don't forget to provide your email address!
---
Event Photography
Be sure to wear your bib number on the front using all four pins so that it's visible to photographers! Visit www.bbactionphoto.com to view race day photos. Participants will be notified by email when photos are ready for viewing!



The routes run though the beautiful UCF campus, including the Spectrum Stadium! Discover why the University of Central Florida is known as one of the most beautiful and largest college campuses in the U.S.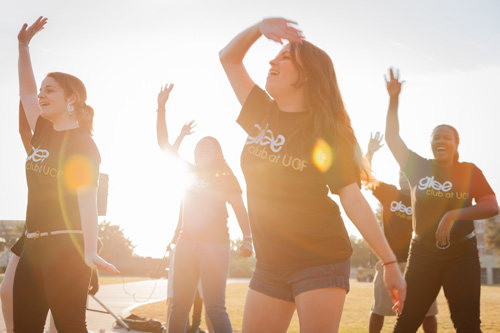 2016 Course Entertainment
UCF Athletics will be out in full force cheering runners and walkers on:
• UCF Cheerleaders in the Football stadium
• Baseball and Softball team in the Baseball stadium
• East Plaza will be dressed up like GAME DAY and music and live high-lights on the JUMBO-TRON in the football stadium.
• Members of the UCF Marching Knights and Knightro at the Start Line
Additional 5 mile entertainment:
• UCF Glee Club will be just before the 2 mile marker
• DJ Andy Jimenez with Xclusive Deejays will also be spinning some tunes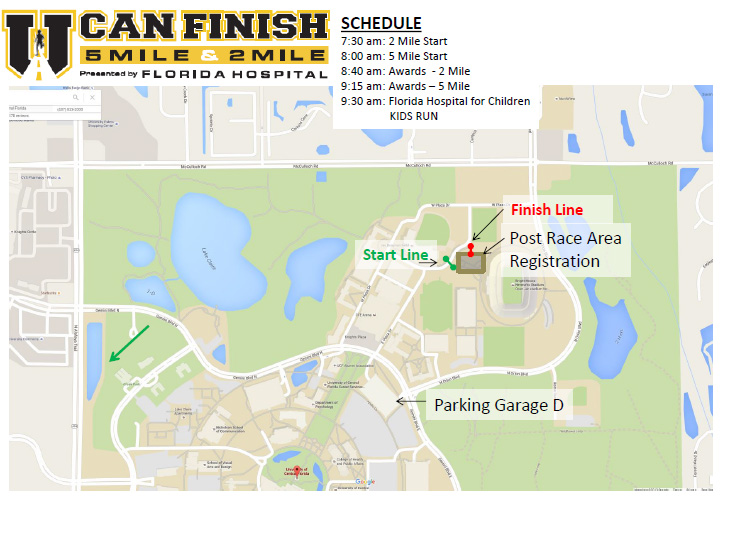 Directions & Parking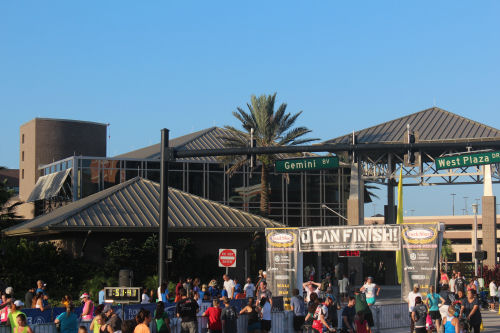 From Orlando- Take 408 E to end of toll road where 408 E turns into Challenger Parkway. Continue onto Challenger Parkway and turn right at Ingenuity Dr. Go straight on Ingenuity Dr. until Discovery Dr. and turn left. Discovery Dr. turns into Libra Dr. Continue onto Libra Dr. and turn right at Gemini Blvd East. Continue straight on Gemini Blvd E and Free Parking will be available in Garage D which will be on your left. PLEASE NOTE: GARAGES D is available before 7:20 am due to road closures. Parking NOT available in Garage H.

From Winter Park- Take SR 436 to University Blvd head east on University Blvd onto UCF campus. Once on campus, turn right onto Gemini Blvd. And continue straight. Free Parking is available in Garage D which will be on your left. PLEASE NOTE: GARAGES D is available before 7:20 am due to road closures. Parking NOT available in Garage H. For all other directions and maps visit www.TrackShack.com or call (407) 896-1160 from 9 am to 5 pm Mon.-Fri.
Beneficiaries 
By participating in the U Can Finish 5 Mile & 2 Mile Run/Walk, you are benefiting the Track Shack Youth Foundation, a local, 501(c)(3) organization that promotes health and fitness with an emphasis on youth programs.

The 4EVER KNIGHTS student alumni association are the traditions keepers and serve as the bridge between students and the alumni association. Through programs, benefits and services, 4EK provides the resources and opportunities for students to excel at UCF.
B-Tag Scoring
The B-Tag by ChronoTrack is the timing device used to score participants. The B-Tag is attached to the back of your runner bib. 
In order to receive an accurate time, please confirm your bib is:
---
Awards
5 Mile

Top three male and female, top male and female master, top male and female grand master, top male and female senior grand master, the top three finishers in each five year age division will receive awards. Running Series points are awarded in the 5 Mile to runners and walkers age 14+.
Note: ONLY Runners and walkers ages fourteen and above who wear the designated B-Tag are included in the 5 Mile results. View TSE policy >>  

Age Divisions for Awards- 5 Mile
| | | | |
| --- | --- | --- | --- |
| 14-18 | 35-39 | 55-59 | 75-79 |
| 19-24 | 40-44 | 60-64 | 80 and over |
| 25-29 | 45-49 | 65-69 | |
| 30-34 | 50-54 | 70-74 | |
Special UCF Alumni and Student Awards - 5 Mile
The top male and female UCF Alumni and the top male and female UCF student will receive an award. Please check the ALUMNI or STUDENT box when registering to be eligible.

2 Mile
The top 10 male and female overall winners will receive awards. The top three male and female 8-10 and 11-13 year olds will receive awards and are eligible for Running Series points.
Note: ONLY Runners and walkers ages seven and above who wear the designated B-Tag are included in the 2 Mile results. Eight through thirteen qualify for awards. View TSE policy >>

---
Race Results
Same day results available at www.TrackShack.com.
---
Race Walkers
The top three overall male and female race walkers will receive awards in the 5 mile. Those who wish to compete in the race walking division need to register at the Central Florida Race Walkers' tent on race day. Same registration procedures and entry fees apply.