Date, Time & Location
Saturday, September 16, 2017
7:30 am: 5k (3.1 mi.)
8:45 am: Kids' Run
9:00 am: Awards Ceremony
Lake Concord Park
95 Triplet Lake Dr.
Casselberry, FL 32707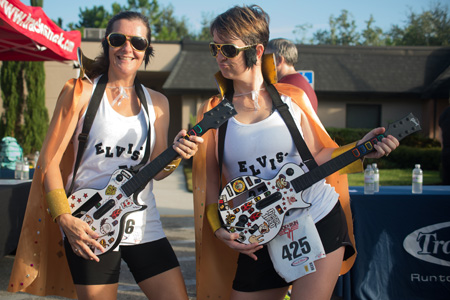 About this Race
Formerly known as Rock 'n Run 5k, the Florida Hospital Battle of the Bands 5k is a new name for the same great race. Read blog >>
Music reigns supreme at the 2nd race of the Track Shack Running Series featuring local bands dueling it out at every mile! The Florida Hospital Battle of the Banks 5k features the high energy, live music runners and walkers love from the course to the post race party.
Event Hightlights
• Battle of the Bands
• Tech Shirt
• Shaded Course
• Mini Craft Beer Fest
• Chip Timed
• FREE Kids' Run
---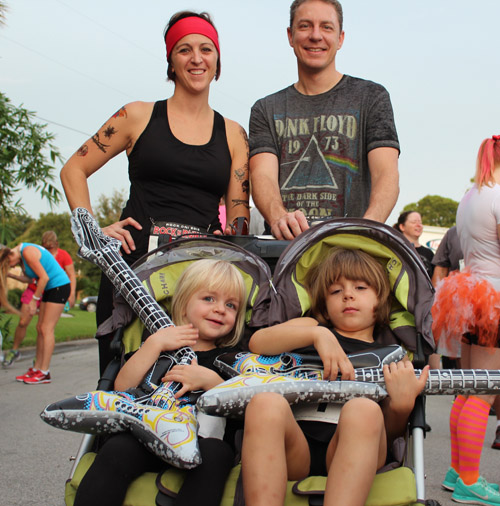 Safety is our first priority!
Bicycles, roller skates, in-line skates, and dogs will be prohibited from the race course. The use of headphones is discouraged.
Walker Friendly Events
Keeping Central Florida Fit is our mission. Walkers are encouraged to participate in all Track Shack races. Municipalities require that road ways are clear of participants and opened as soon as the race is complete. That is why a maximum pace of 16 minutes per mile is set. If the pace isn't maintained, race officials will ask you to move to the sidewalk to re-open the roadways.
Stroller Restrictions
• Stroller/jogger operators start behind designated stroller signage.
• Stroller/jogger operators may walk/jog no faster than 15 minute per mile, a safe operating speed. If your speed goes faster than 15 minutes per mile pace, you may be disqualified.
• Stroller/jogger operators must yield the right of way to runners. Stroller/Joggers can tip easily and cannot turn quickly. Please do not weave through packs of runners.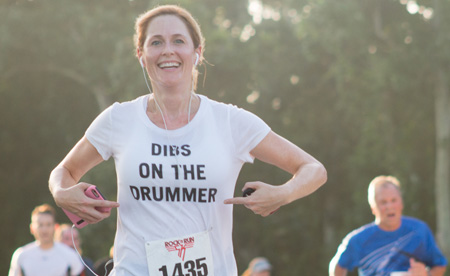 Online registration available until 7:30 am on race day

Not sure if you are already registered? 
Confirm your registration >>


Entry fees are non-refundable and non-transferable.
Entry Fees


Through Sept. 2


$30

Sept. 3 - Sept. 15 

$33

Race day at race site

$38

17 & under and 65 & over

Through Sept. 15: $10 off


Race day at race site: $38

Friends & Family pricing

Through Sept. 15th: Receive 15% off when you register 3 or more participants
Use code: friendsandfamily
Valid on online registrations only
Must register all participants under one transaction 
---
Bib/Shirt Pick-Up
Race information, race number, t-shirt, available at Track Shack and at the race site on race morning. Track Shack is located at 1104 N. Mills Ave. Orlando, FL 32803. Email: info@trackshack.com
Participants will receive an e-Race packet (directly to their inbox) with all the good and helpful race info including the course map, race instructions, special offers and race promotions.
If you are picking up for 3 or more participants, please bring a reusable bag.

| | |
| --- | --- |
| Wednesday, Sept. 13 - Friday, Sept. 15 | 10:00 am - 7:00 pm |
| Race day at race site (Lake Concord Park) | Starting at 6:00 am |

Get ready for the 6th annual Battle of the Bands. Three finalists will perform on the course. If you would like to be a contestant in the 2017 Battle of the Bands, please email alicia@trackshack.com
1st - $400 per group
2nd - $200 per group
3rd - $150 per group
Be sure to cast your vote for your favorite band at the Track Shack tent on race day! 
---
All entrants will receive a gender specific Greenlayer Sports cotton feel tech tee. View sizing chart  >> 
Sizes are not guaranteed on race day registration.
---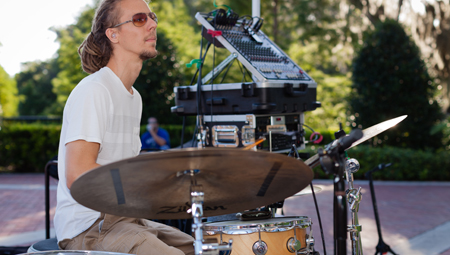 Post Race Party
Celebrate at the post-race party with ice cold brew (21+) and live music by The Quinn Shaw Band.
The Quinn Shaw Band is comprised of three professional musicians. Collectively they have many years of performing, touring, recording and teaching. Truly an experience you won't forget.
---
Celebrating Your Accomplishment
All finishers receive a finisher's certificate. Don't forget to provide your email address!


---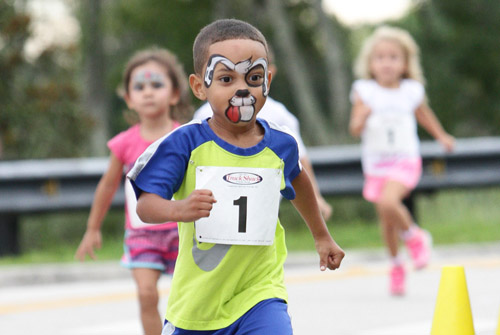 Kids' Run
Kids' runs are free for all children. Distances range from 100 yards to 1 mile and children will be placed in age appropriate groups. Registration is on race day at race site. 
Free t-shirts in youth & toddler sizing are available to registered participants on a first come, first served basis. All participants receive a finisher's ribbon!  
---
Event Photography
Be sure to wear your bib number on the front using all four pins so that it's visible to photographers! Visit www.bbactionphoto.com to view race day photos. Participants will be notified by email when photos are ready for viewing!
The Course
Runners and walkers enjoy this flat, 3.1-mile route that starts and finishes beneath the shade of 100-year old oak trees and meanders through residential streets. The Battle of the Bands features three on-course bands to keep your running rhythm rockin'! REMEMBER – Vote for your favorite band at the Track Shack tent!


Course map coming soon!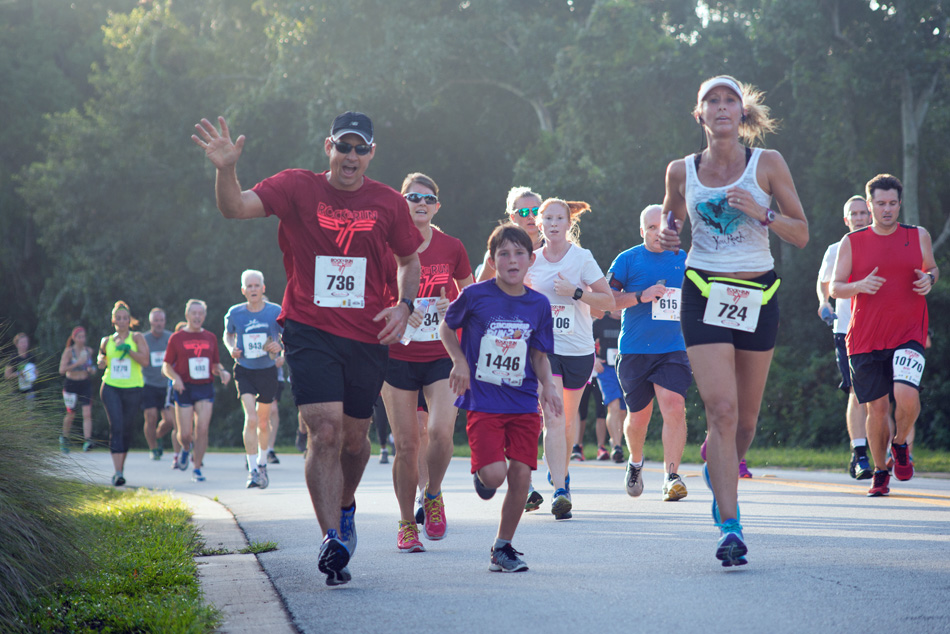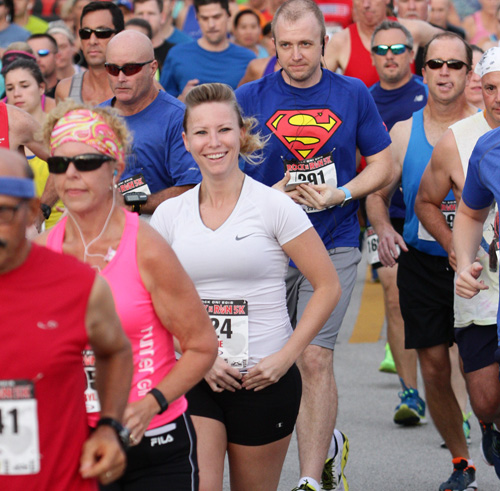 Location
Lake Concord Park
95 Triplet Lake Dr.
Casselberry, FL 32707

Parking

Target
4410 S US Hwy 17 92
Casselberry, FL 32707
Community United Methodist Church
4921 S US Hwy 17 92
Casselberry, FL 32707
Home Depot
3455 S US Hwy 17 92
Casselberry, FL 32707
Please plan accordingly & follow signs to designated parking locations.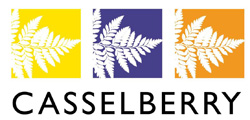 Beneficiary
The City of Casselberry is proud to host the Florida Hospital Battle of the Bands 5k. Event proceeds benefit cultural arts organizations in Casselberry through the Track Shack Youth Foundation.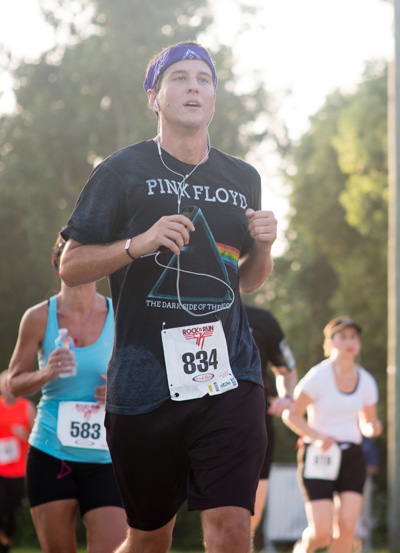 B-Tag Scoring
The B-Tag by ChronoTrack is the timing device used to score participants. The B-Tag is attached to the back of your runner bib. 
In order to receive an accurate time, please confirm your bib is:
Race Results
Same day results available at www.TrackShack.com.

---
Awards
Top three male and female, top male and female master, top male and female grand master, top male and female senior grand master, and the top three finishers in each age division will receive awards. The top three overall male and female race walkers will receive awards. Any master athlete that places in the overall division receives the overall award.
Special Awards
The first male and female Casselberry residents to finish receive an award.
Age Divisions for Awards

| | | | |
| --- | --- | --- | --- |
| 8-10 | 25-29 | 45-49 | 65-69 |
| 11-13 | 30-34 | 50-54 | 70-74 |
| 14-18 | 35-39 | 55-59 | 75-79 |
| 19-24 | 40-44 | 60-64 | 80 and over |
Note: ONLY Runners and walkers ages seven and above who wear the designated B-Tag are included in the race results. Eight and above qualify for awards. View TSE policy >> 

---
Race Walkers
The top three overall male and female race walkers will receive awards. This is a judged race walking competition. Those who wish to compete in the race walking division need to register at the Central Florida Race Walkers' tent on race day. Same registration procedures and entry fees apply.
Battle of the Bands 
Three finalists have been chosen to perform on the course:
1st - $400 per group
2nd - $200 per group
3rd - $150 per group
If you would like to be a contestant in the 2017 Battle of the Bands, please email alicia@trackshack.com

2016 Contestants: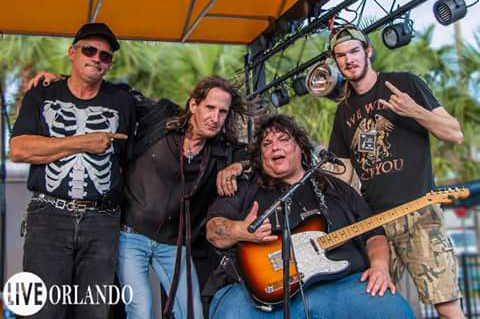 The John Rainey Project
"The John Rainey Project" is the kind of band that you want to go see again and again! The band has extreme showmanship and plays non stop 1 hour sets. With a light show and sound system, the idea of this band was to give you the feeling of going to a full Blown concert. With powerful over the top vocals and harmonies, smoldering guitar solo's, in your face bass playing and coliseum drums." 
The John Rainey Project" is a Band like no other around the area!
With a vast background from: 70's, 80's, hair metal, blues, and just flat out Rock n Roll we have something for everyone! 
Website: www.thejohnraineyproject.com/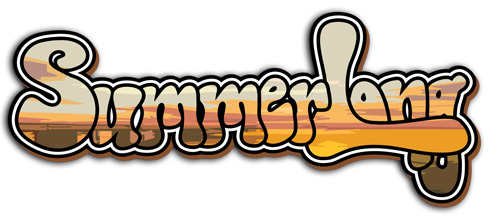 SummerLong
Some good ole FL boys from just across the river spreading their swampy salty reggae vibes where ever the crowd wants to get barefoot and boogie down.
Website: www.summerlong.bandcamp.com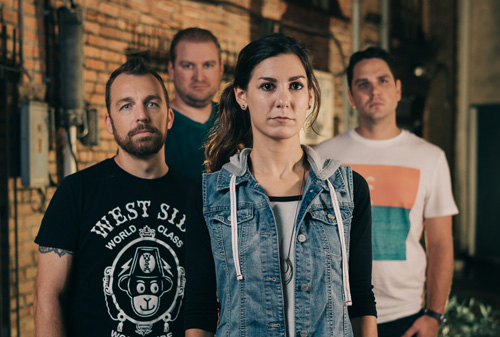 Elevators
Residing in Orlando, FL., ELEVATORS is a pop-punk/rock outfit consisting of members Ryan (guitar/vox), Matt (drums), Niki (guitar/vox), and Andy (bass/vox). Originally hailing from the Midwest, the four grew up playing in a variety of separate bands and genres until finally uniting as ELEVATORS in 2013. They began performing their first shows in the Orlando area during the fall of 2013. Andy joined the band on bass towards the end of that year, completing the lineup of ELEVATORS. 
ELEVATORS released their first album entitled "Live To Find Out" recorded at The Wolves Den studio with producer/studio owner Adriel Garcia (guitar player for City Sleeps/Badwolf) in September of 2014. The album can be found on iTunes, Amazon, Spotify and Google Play. 
Website: www.elevatorsrock.wix.com/elevatorsrock