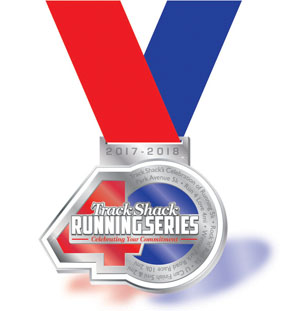 Florida's Premier Road Race Series
Register for the six race Track Shack Running Series and you are a FANATIC! Whether you run, walk or do a little bit of both, it's easy to experience the convenience of one-time registration for Track Shack's best races and enjoy the benefits all season long! View Series schedule >>
Online registration deadline: August 17th. Not sure if you are already registered? Confirm your registration >>
---
2018-2019 Benefits and Pricing

Fanatic

SuperFan


One time registration fee for the Track Shack
Running Series events

$205- Through 4/30
$210- 5/1 to 8/14

$255- Through 4/30
$260- 5/1 to 8/14

Distance Dares - Registration in both events at the
UCF 5 mile & 2 mile (limited to 750)
and Winter Park Road Race 10k & 2 mile
(limited to 900) - 8 EVENTS TOTAL!




Track Shack Running Series races - 6 EVENTS TOTAL!







Exclusie Gender specific Raw Threads Fanatic Shirt!



$25 Track Shack Cash

Exclusive gear check at all Running Series races






Distance Dare medals to Distance Dare Finishers

Access to the VIP hospitality tent at the
ZKS Winter Park Road Race presented by Florida Hospital





Personalized race number for each Track Shack Running
Series event. Your number will be the same throughout
the series with your first name at the top of the number
beginning at Florida Hospital Battle of the Bands 5k.
Register by July 20th for name on bib at the first race.




Guaranteed t-shirt size at each Series event




Receive $10 off the Orlando Half Marathon registration
(Discount code included in your Fanatic confirmation message.
Coupon expires 10/31)




2018-2019 Track Shack Running Series Schedule
Aug 18 Track Shack's Celebration of Running 5k presented by Florida Hospital
Sept 15 Florida Hospital Battle of the Bands 5k
Oct 28 U Can Finish 5 Mile & 2 Mile presented by Florida Hospital
Jan 19 Park Ave 5k presented by Florida Hospital
Feb 09 Run 4 Love 4 Mile presented by Florida Hospital
Mar 23 Zimmerman Kiser Sutcliffe Winter Park Road Race 10k and 2 mile presented by Florida Hospital


Packet Pick-up
Wednesday, August 15 - Friday, August 17
Packet Includes:

Personalized race number and Track Shack $25 cash will be available at the Florida Hospital Battle of the Bands 5k bib pickup in September.
Fanatic Information
Fanatics age 14 and older are automatically registered into the longer distance races (UCF 5 Mile and Winter Park Road Race 10k).

Fanatics age 14 and older can transfer to a shorter race by contacting the Registration consultant susan@trackshack.com.

Fanatics age 13 and under are automatically registered into shorter distance races (UCF 2 Mile and the Winter Park Road Race 2 Mile).

Due to the special $10 discount for runners 17 and under and age 65 and over, the Fanatic offer is a benefit for Fanatics ages 18-64.

Fanatic registration fee is nonrefundable and nontransferable.

Gift Card is non-transferable.

All Track Shack Running Series races will be timed with the B-Tag

Registration Deadline: August 17, 2018
Fast Fanatics
Fanatics who place in overall or top ten age group positions in Track Shack Running Series races are eligible for Running Series points. View scoring info »
Distance Dare Time Limit
SuperFans please note the start time of the Distance Dare Races to make sure that you can complete the first race before the start of the second one.
U Can Finish 2 Mile: 7:00 am
U Can Finish 5 Mile: 7:30 am
Winter Park Road Race 2 mile: 7:00 am
Winter Park Road Race 10k: 7:30 am