Staff Shoe Review – ASICS GlideRide
By Shane Huckeba, Shoe Expert at Track Shack and Former Collegiate Athlete
This is a review that I am particularly excited about. For those who are unaware, recently the hot ticket items in the running world are "energy saving shoes". With Nike's Vaporfly series and Hoka's Carbon X leading the charge in the category, ASICS decided it was their turn at the plate. They actually have two energy savings shoes on the market, but we are only going to focus on the Glideride in this review. Today, I am going to give you the skinny on the Glideride as well as a short personal review. 
What exactly is an "energy savings" shoe? Is it going to make you the runner you've always dreamed of? Without getting too far into the weeds, let's uncover those answers. One of the defining characteristics of these shoes is a carbon fiber plate right smack dab in the middle of the footwear. This carbon plate allows the stride to maintain the energy that is otherwise lost during the foot-strike to toe-off phase. Another key characteristic of this category is what Hoka calls a "Meta-rocker". This essentially is a tapered geometry on the heel, in the forefoot, or both. This "rocker" bottom tends to allow the foot to transition more smoothly through ground contact, thus again saving energy that may be sapped due to inefficiencies and/or physics. 
Where does the ASICS GlideRide fit into all of this? One of the things that the Glideride is characterized by is its rocker sole. The forefoot curve is pretty drastic and probably something you would notice at first glance. Objectivity aside for a moment, it can look a little intimidating at first. The curve of their GuideSole technology and consistency of the Flytefoam are what gives this shoe its springy, propulsive feel. The shoe is meant to be an everyday trainer so it weighs in at 9.9 oz. for Men's size 9 and 8.1oz for Women's size 7). It has a 5mm heel-toe drop as well. To clarify, the Glideride does not have a carbon play but the natural stiffness of the shoe can lightly mimic the effects. 
So now that the tech stuff is out of the way, let's talk about the stuff you really want to know: how does this shoe fit and feel? This is a fairly high cushion neutral shoe. It is not a plush shoe, but there is a good bit between your foot and the ground. As far as the fit, I do have to say that while the toe box is not necessarily narrow, this is a pretty low volume shoe. Those with natural wide feet or high insteps might not find this shoe the most comfortable. I have a pretty narrow foot but a decently high instep. It fits nicely on mine, but I also went up a half size during my testing phase. I'd say it's pretty necessary to try the shoes on and make sure it's a good fit.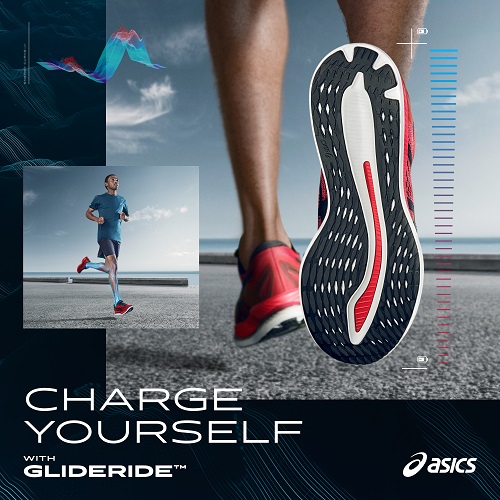 One last bit I want to touch on is how the shoe feels in motion. Now to preface, I've only gotten about 15 miles into these shoes and haven't gone over 3 miles in them. One thing that I noticed off the bat is how much this shoe worked with my foot. I had to keep telling myself to slow down in the shoes because that "rocker" just seems to propel you each and every step. One of the downsides to this shoe is what makes it a good shoe— how different it is. It is a unique ride that I imagine will be polarizing. You are going to need to let your body adjust to this style before picking up your full mileage. I really enjoy the level of cushion, but it also is a little bit hefty because of it. All and all I would say this is a great trainer for those who are looking to change up their day to day running and trying something new. It's also the cheapest price point at $150.00 for these "energy savers" that are on the market! I have had a good bit of fun in these so far so I recommend trying them out. As always you can stop by the store and see if this is a good fit for you. 
Track Shack is a specialty running/walking store that has been serving the footwear needs of Central Florida's fitness enthusiasts since 1977.  Our experienced and knowledgeable staff takes each person through a custom fitting process.  Shoes and feet are our business but people are our specialty!  Now that you're here, walk through our user-friendly website and welcome to the Track Shack family!
Use Facebook to Leave a Comment
- We'd love to hear from you.