Are you looking to cheer on your friends and loved ones as they run 13.1? MAKE A PLAN and make it easy for them to spot you cheering them on! Click here to print out the tips and spectator locations.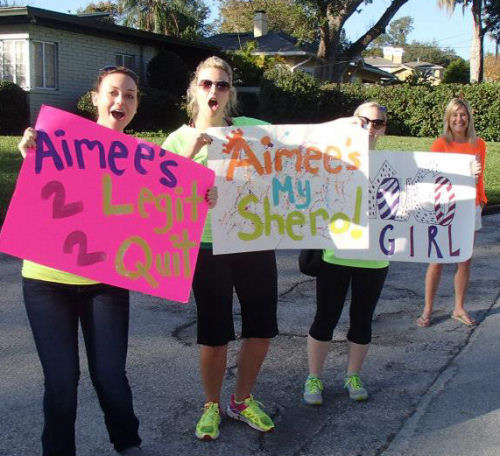 10 SPECTATOR AND CHEER LOCATIONS
Before Mile 1. East Central Blvd. and South Summerlin Ave. (In front of Soco Thornton Park restaurant)
Before Mile 2. East Concord St. and North Ferncreek St. (Open grass lot)
Mile 3. Livingston St. and North Primrose Dr. (Festival Park)
Mile 3.5. East Jackson St. and South Primrose Dr. (Cherry Tree Park)
Mile 4. East Gore St. and South Primrose Dr. (Mile 4)
HINT: From Mile 4, take Gore St. WEST to Bahama Dr. and catch your runner just before Mile 9!
Mile 5.5. East Grant St. between Rest Haven Ave. and Conway Gardens Dr. (Near the Masonic Temple)
Mile 6.75. Raeford Rd. and South Bumby Ave. (Near Power DJ!)
Mile 7.25. Ferncreek Ave. and Michigan St. (Open grass lot)
Mile 9.1. East Gore St. and South Mills Ave. (At 903 Mills Market. Enjoy a breakfast wrap and mimosa! Take a walk to Lake Davis and watch the parade of runners near the Lake.)
HINT: From Mile 9.25, take Gore St WEST to Euclid Ave to catch your runner after Mile 11!
Mile 11.5. Lake Ave. and Palmer St. (On the north end of Lake Cherokee)
SPECTATOR TIPS
Follow these tips and you won't miss a single step of your runners' race! DON'T KNOW ANYONE RUNNING? We have some tips for you too!

1. YOUR CHEERING LOCATION should be planned ahead of time so your runner can spot you on the course! VIEW PACE CHART »

2. WEAR BRIGHT COLORS and tell your friends what you'll be wearing so they can spot you.

3. HOMEMADE SIGNS are so inspiring. Funny is also good. A sign with your runners' name works every time.

4. WAIT A LITTLE LONGER if your runner hasn't passed in the expected amount of time. They make take longer than expected.

5. DRESS COMFORTABLY. Check the weather and plan accordingly. Rain, shine, warm, or cold, the race will still go on!

6. CHEER as loud as you can! Runners feed off the energy that the crowd generates.

7. PERSONALIZE YOUR CHEERS Yell out runners' names on their bibs or t-shirts.

8. CHEER ON EVERYONE! You may be giving encouragement to someone who needs it to keep going!

9. ESTIMATE YOUR RUNNERS LOCATION and have enough time to get from one location to the next if you are viewing from multiple locations.

10. POSITIVE CHEERING helps runners finish! Never tell a runner they're almost done when they are not.