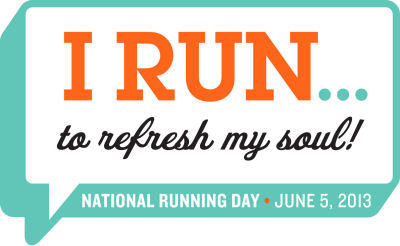 Running in America
The typical American runner…
• Is one of nearly 43 million in the U.S.
• Is just over 41 years old and has been running for 13 years
• Runs an average of 26.1miles each week

Americans are running all over the place! In the last 10 years…
• 48 more people are running and jogging
• 38% more people are running and walking on treadmills
• 16% more people are trail running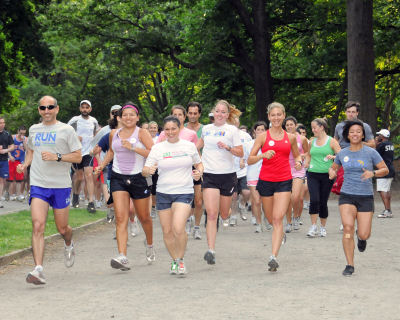 American runners love to compete!
• More than 500,000 people finished a marathon in the U.S. in 2010.
• More than half of the nation's runner want to run a 5K, 10K, half marathon, and marathon this year.
• The half marathon is the nation's fastest growing—and most popular—race. More than 5 million people finished a half marathon in the last 5 years.
• American teens are racing in record numbers. Last year more than 1.5 million high school students ran competitively for their schools.

Top Reasons to Run
• Most men and women run to stay in shape, stay healthy, relieve stress, and have fun.
• Running helps combat stress, emotional strain, and mild depression.
• Regular runners tend to be happier than their more sedentary peers.
• Running during old age reduces disability and contributes to a lower mortality rate.
National Running Day at Track Shack 
Join us on National Running Day as runners all over the country unite and take strides toward leading healthier, fitter lives. More info >>
Sources
Running USA, 2009 National Runner Survey
Sporting Goods Manufacturers Association, 2010 Sports & Fitness Participation Topline Report
Running USA, 2010 Annual Marathon Report
Running USA, 2010 Annual Half Marathon Report
National Federation of State High School Associations, Historical Sport and Activity Statistics
American Academy of Child Adolescent Psychiatry
Archives of Internal Medicine. Vol. 168 No. 15 Aug 11/25, 2008. Reduced Disability and Mortality Among Aging Runners. Eliza F. Chakravarty, MD, MS; Helen B. Hubert, PhD; Vijaya B. Lingala, PhD; James F. Fries, MD 1638K1646